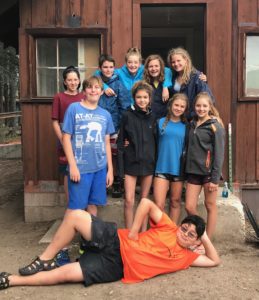 Discovery Summer Camps: Ages 8–10
Registration for 2020 opens March 30 for members
Note: At this time of uncertainty, we are collecting registrations only to hold your place, payments will be made in May when we are able to confirm the 2020 summer camp season. Registration closes on Thursday at 5:00 pm before the first day of camp.
Register Now
Members receive a 10% Members Discount. Not a member? Join Today
___________________________________________________________________________________________________
2020 Camps for Ages 8-10
Clay Creations  
Explore ceramics from around the world to shape your own clay creations. For inspiration we will visit the Museum's prehistoric pottery display, go on nature hikes, and view local galleries. We will create embossed tiles, pots, and dishes using prehistoric pottery designs that will be fired, glazed, and ready to take home on Friday.
Educator: Kelly Woodruff
Cost: $240
Dates: June 8-12, 9 a.m.–4 p.m.

Dance Discovery
Go back in time to discover some of the greatest dancers & choreographers of all time and learn some of their moves! We will use an anthropological perspective to investigate how each of these artists have given this world a treasure and how you can too!  Learn & create dances together, design & create costumes, go on field trips & hikes, play games, and have a showcase performance at the end of the week.
Educator: Jessica Taylor
Cost: $235
Dates: June 15-19, 9 a.m.–4 p.m.
Jr. Master Gardener
Make mud pies, study insects, visit the Arboretum and Viola's. Campers will learn the science and art of creating a thriving high country garden that is easy to maintain all with the help of MNA's Colton Community Garden. You will have the option to continue the Junior Master Gardener (JMG) Program after camp.
Educator: Lorie Cavalli
Cost: $230
Dates: June 22-26, 9 a.m.-4 p.m.
Eco-Artist
Creative spirits go wild transforming everyday materials into beautiful works of art. Imagination and creativity pay off in a Friday art show for families. Includes field trips on nature trail and recycling center.
Educator: Barbara-ann Heerkens
Cost: $225
Dates: June 29-July 3, 9 a.m.-4 p.m.
STEAM Team
Prepare to get psyched about Science! (and art). Each day we will explore a unique field of science: architecture and engineering, water and earth systems, chemistry, biology and robotics with fun and inspiring activities.
Educator: Barbara-ann Heerkens
Cost: $230
Session I Dates: July 6-10, 9 a.m.–4 p.m.
Session II Dates: July 20-24, 9 a.m.-4 p.m.
Raptors and Falconry  
Soar into the art and science of falconry with live raptors! Explore these birds' amazing anatomy and the variances among their species based on survival strategies. Feel the uplifting feathers and terrific talons of these birds during demonstrations and hands-on activities.
Educator: International Raptors and Falconry Center
Cost: $260
Session dates: July 13-17, 9 a.m.–4 p.m.
People of the Southwest
Unlock secrets of the past. Learn how ancient people of Arizona lived during this hands-on exploration of how they built homes, made tools, ceramic pots, and petroglyphs. We will do an experiment with garbage to determine what future archaeologists would think of us. Field trips include Walnut Canyon and Wupatki.
Educator: Elden Pueblo
Cost: $235
Dates: July 27-31, 9 a.m.–4 p.m.
___________________________________________________________________________________________________