Museum Staff Researchers:
Larry Stevens, Curator of Ecology
Dr. Larry Stevens is an evolutionary ecologist and the Coordinator of the Museum of Northern Arizona's new Springs Stewardship Institute, which is dedicated to improving understanding and stewardship of springs ecosystems. He also serves MNA as the Curator of Ecology, and is the Senior Ecologist for Grand Canyon Wildlands Council, a conservation organization in Flagstaff. Originally from Cleveland, he received his undergraduate degree from Prescott College in 1974, and his Masters of Science (1985) and doctorate in Zoology (1989) degrees from Northern Arizona University. He is a long-time Colorado River whitewater guide, and served as Ecologist for Grand Canyon National Park (1988-1994). He has conducted extensive research on southwestern biogeography, conservation ecology, endangered and non-native species biology, as well as springs, riverine, wetlands, and dam ecology and management. He has written more than 70 scientific peer-reviewed articles, three books, and numerous popular articles on water-related resources and management in the Southwest. His recently completed co-authored book on the ecology and conservation of North American springs is widely recognized, and he is presently working on a sequel on springs stewardship. Dr. Stevens resides in Flagstaff, Arizona, with his wife Jeri and daughter Phoebe.
Jeri Ledbetter, SSI Program Coordinator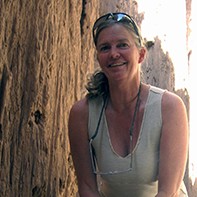 Ms. Ledbetter received a Master's degree in Geographic Information Systems from Pennsylvania State University and a Bachelor of Arts degree in Mass Communication from Prescott College. She is a GIS analyst with extensive experience in relational database design for scientific field work, proj­ect and natural resource management, and community outreach. She has extensive experience con­ducting research in remote locations and under harsh environments and is skilled in digital cartography, biology, geography, geology, and water resource management. Ms. Ledbetter also has experience with graphic design and typography, digital imaging, video produc­tion, writing and editing for publication, outdoor education, and community outreach. Prior to becoming a GIS and database guru, Jeri was a Grand Canyon dory boat river guide and the past president of the Grand Canyon River Guides. She also received accolades for her documentary, "Hanging with the Sloths".
Jeff Jenness, GIS Data Technician, Springs Stewardship Institute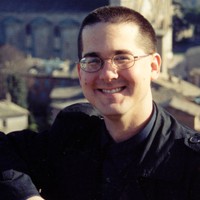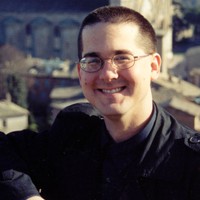 Jeff Jenness is a wildlife biologist and GIS analyst with 16 years experience chasing spotted owls for the USFS, and 15 years running his own GIS consulting business.
Courtney Holt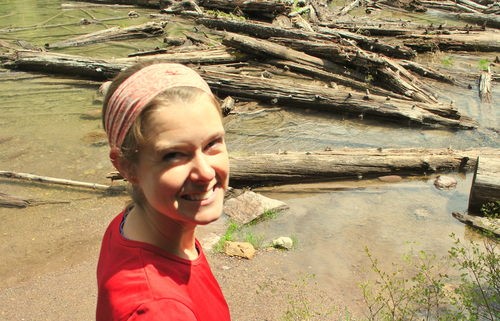 Courtney Holt is a doctoral candidate from the University of Georgia in the Department of Entomology. In February 2016 she expects to complete the final chapter of her dissertation, researching ecological impacts of flow regulation on rivers and floodplains. She earned her M.S. from Auburn University with a floristic study of Weaver Creek Wetland in Florida. She has authored several peer-reviewed publications, and received the Outstanding Teaching Assistant award from the University of Georgia in 2015.
Research Associates: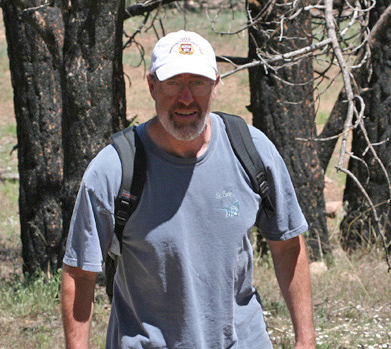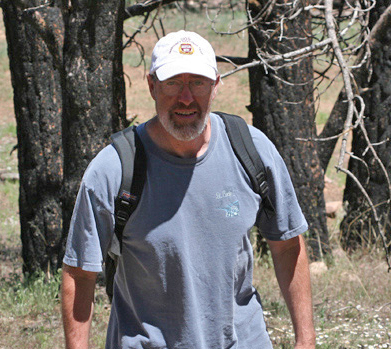 My research is focused on the arthropod bio-diversity of the Colorado Plateau with a specialty in ants. I work with Native Americans, the National Park Service and others to collect, inventory, document and photograph a wide variety of arthropods and insects. Working in the field of bio-informatics, I am interested in presenting museum and field data to the general public.
At the museum, I am specifically working to write National Science Foundation (NSF) grants for research and education. In collaboration with Larry Stevens, we are writing a research paper on the ant diversity of the Grand Canyon Ecoregion. I have set up imaging systems at the MNA for high resolution, focus stacking photographs of arthropod biodiversity on the Colorado Plateau. We are in the process of creating a virtual "Museum Image Library of Arthropods" on the Colorado Plateau (MILA).
Gloria Hardwick, Research Associate, Springs Stewardship Institute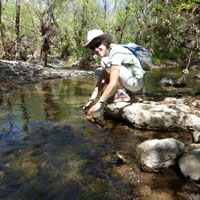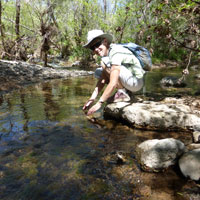 Gloria graduated from Northern Arizona University with a MS in biology. She is a long-time aquatic ecologist working with aquatic macrophytes and algae of the southwestern United States including the Grand Canyon. Gloria has contributed to studies of the Humpback chub and other native fish of the southwestern United States and served as an instructor in plant taxonomy, ecology, and natural history for NAU, Flagstaff Public Schools, and the Museum of Northern Arizona. Gloria is excited to return to MNA to further the work of the Spring Stewardship Institute by assisting with information management, research proposal development, as well as project planning and execution.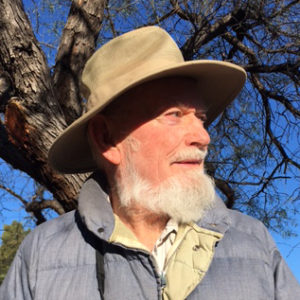 Dr. Johnson is a retired National Park Service Research Scientist and a University of Arizona biology professor. His PhD is in botany from the University of Kansas and his M.S. in zoology from the University of Arizona. His main research interest is in riparian ecosystems and in deleterious anthropomorphic impacts on birds of riparian forests and woodlands. As a second generation native Arizonian he is especially interested in avian populations along rivers of the Southwest. He was a professor at a number of universities where he conducted riparian and avian research and taught biology courses. He was a Research Associate of the Museum of Northern Arizona from 1970-1979. From 1974-1979 he was Coordinator of the Colorado River Research Program in Grand Canyon National Park. In 1979 he became Unit Leader of the National Park Service Cooperative Studies Unit at the University of Arizona and continued in a dual role as a Research Scientist and biology professor until his retirement in 1992. He is the author or coauthor of more than 200 scientific publications and since retirement lives on a desert plot with his wife and often coauthor, Lois Haight, near Saguaro National Park east of Tucson where he continues to conduct research and publish scientific papers.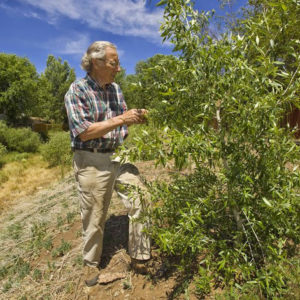 Peter Price was born in England, served in the Royal Air Force as a radar technician for 2 years, and received his B.Sc. in Forestry there (1962). He then migrated to North America, first obtaining his M.Sc. in Forest Entomology (1964) and working for the Canadian Forest Service as a research scientist. He then studied at Cornell University, receiving his Ph.D. in Ecology and Evolutionary Biology (1970). He became an Assistant and Associate Professor at the University of Illinois, Urbana-Champaign (1971-1979), then moved to Flagstaff as Research Ecologist at the Museum of Northern Arizona (1979-1980). A move to the Department of Biology at Northern Arizona University included maintaining a position as Research Associate at MNA, and ended as Regents' Professor from 1994 to 2002. He lives with his wife, Maureen Price, in Flagstaff, and their sons, Gavin and Robin, live in the Bay Area in California.
Research with his graduate students has resulted in over 200 scientific papers, with concentration in Flagstaff on gall-inducing sawflies with particular attention to the arroyo willow shoot-galling sawfly along Schultz Creek on Museum property. He has been a Guggenheim Fellow and a Fulbright Senior Scholar. He has authored our four books, with one including four editions of the textbook "Insect Ecology" which has been in print for 42 years. He enjoys gardening, hiking, distance running, and the company of fellow associates at the Museum of Northern Arizona.