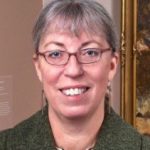 Mary Kershaw, Incoming Director
Mary Kershaw will start as the new executive director in June. She comes to MNA from the New Mexico Museum of Art in Santa Fe, where she was Director for 9 years. Her extensive museum career began in Britain, where she started out as a field archaeologist excavating sites for the Museum of London Archaeology Service. She moved into curating collections and developing exhibitions for the Harrogate Borough Council. By 1992, Kershaw had moved into the top leadership position as Head of Museums and Arts for the Harrogate Borough. In 2003 she became part of the senior management team for York Museums Trust, responsible for 4 museums, a historic observatory, a medieval abbey, 5 collection facilities and 2.5 million objects. Born and raised in Philadelphia, she was drawn to the Southwest and took the position in Santa Fe in 2010. She is married to film director and screenwriter Peter Kershaw.
mkershaw@musnaz.org
928-774-5211, Ext. 203
Nic Beckett, Membership Manager
Nic Beckett grew up here in Flagstaff and loves the supportive community. He studied sustainability and business at ASU and sustainable communities at NAU.
When he has time off, Beckett plays disc golf and makes nut brittle following a family recipe he's updated to feature organic sugar, local nuts, and vegan butter, "so everyone could eat it."
Membership hours 8:30-4:30
Nbeckett@musnaz.org
928-774-5211, ext. 219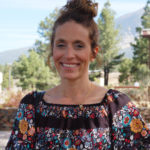 Liz McGinlay, Development Director
A second-generation Flagstaffian, Liz McGinlay ran track for Flagstaff High School and sang in a traveling choir while studying history at NAU. After graduating, she taught high school economics and history for a few years before moving into the non-profit world. McGinlay and her husband John have three children. McGinlay still runs and sings, though not at the same time.
Lmcginlay@musnaz.org
928-774-5211, ext. 227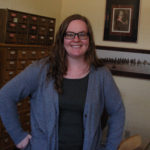 Melissa Lawton, Archivist
Melissa Lawton's became interested in the past as a 7th grader in Collins, Iowa (population 500) when she was assigned to do a report on paleontology. She earned a BA in anthropology and history from the University of South Dakota, then a library and information science Masters from Drexel University.</p
Library hours Thursday 1-4:30 pm
Library@musnaz.org
928-774-5211, ext. 256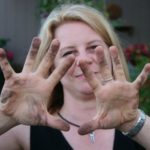 Kristan Hutchison, Director of Marketing
After growing up near Seattle, Kristan Hutchison went east, earning a BA in Political Studies from Bard College. Her journalism career took her to Alaska, and eventually Antarctica, where she ran a publication for the National Science Foundation. After Antarctica, Hutchison ended up in California's Silicon Valley, working with science education non-profits, before she and her husband, Joe Mastroianni, escaped to Flagstaff.
Marketing hours 8 am – 5 pm
Khutchison@musnaz.org
928-774-5211, ext. 273