Home | About | FAQs | Policies and Access | Useful Links | Archives-in-Action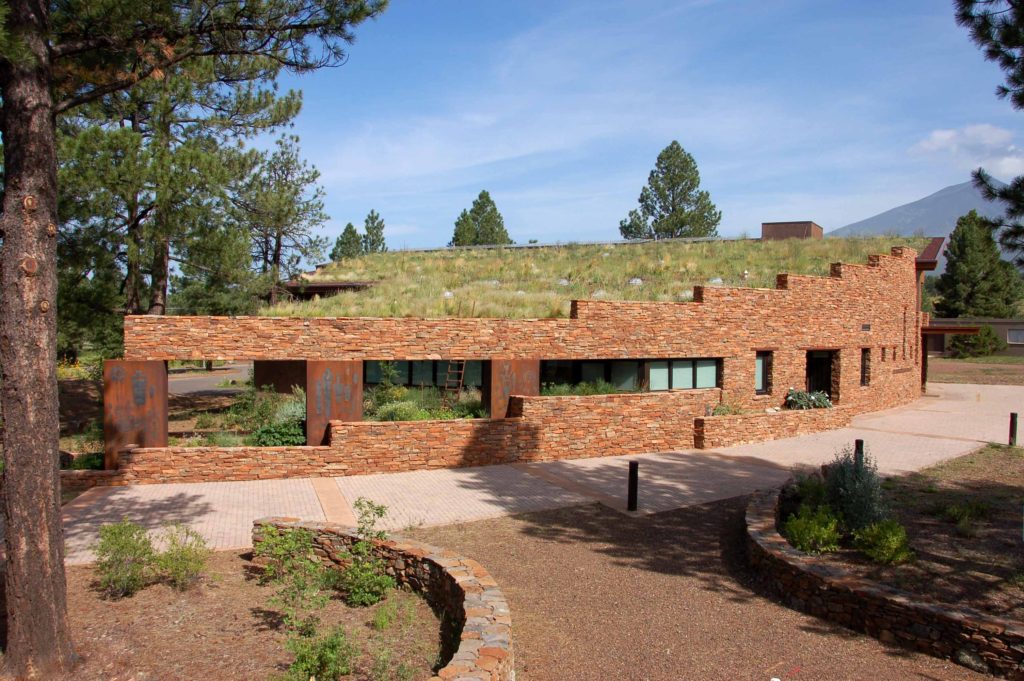 Easton Collection Center (ECC) home to the MNA Archives.
Welcome to the Museum of Northern Arizona Library & Archives. The Harold S. Colton Memorial Library began with the donation of Harold S. and Mary-Russell Ferrell Colton's personal library. The library's collection has grown to include several hundred periodicals, 50,000 books, 28,000 separates (pamphlets/booklets), and several thousand maps. The Museum of Northern Arizona's Archives includes 300 manuscripts, 284,000 images (including; photographs, digital images, negatives), films, audio recordings, and institutional records. We are located across the street from the Museum of Northern Arizona on the Harold S. Colton Research Center campus. See the museum's Hours, Admissions & Directions page for directions and campus maps.
Please use the following PDFs and finding aids to search our library and archives holdings. Unfortunately, not all of the materials in our holdings have been entered into our database and therefore may not be listed in the PDFs below. If you are looking for an item that fits the scope of our collections but you don't see it listed, please contact the Archivist (vacant).
For research assistance, please provide us with at least 30-days notice prior to your proposed visit. This allows time for us to ensure that the collections and/or documents requested are available and not subject to any restriction(s). Please fill out the Request for Collections Access PDF then email or mail the form to the appropriate Collections Manager.
Be aware that some of our collections are "restricted." We have identified these collections on our finding aids however, restrictions range from entire collections to a few individual items. Many of these restrictions have been put in place in consultation with tribal communities and they may allow access after consultation and approval. This process is in line with the Protocols for Native American Archival Material. Please contact the Archivist to discuss any research request with collections noted as "restricted."
Books | HRC | Journals | Manuscripts | Photo Archives | Reports | Rock Art Studies | Separates
Resources
The library houses books that support the Museum of Northern Arizona's mission including the subject of the Colorado Plateau, its people, and related scientific disciplines. Books in the general collection are free for the public to use while in the Library. Staff and Research Associates may checkout books for use in their office.
Consists of materials that were donated but are not primary source materials (i.e. photocopies of research materials from another archival repository). These collections have been separated into their own grouping because MNA does not have the right to either grant access or permission to use these materials. Researchers are strongly encouraged to contact the repositories holding the original materials.
Institutional Records
Are the records of the Museum of Northern Arizona. These records were created by various departments, committees, and individuals as part of the operations of the Museum over the course of its existence. Some of these materials may be accessible by the public, however, a vast majority are restricted.
Consist of serial publications (journals, magazines, etc.) which fall into the collection scope of the Library. Until the mid-1990s, the Library held active subscriptions to some periodicals. After the mid-1990s, the budget for periodicals dwindled so that by the 2000s, the only periodicals coming in were either donated, received as an organization's membership benefit, or a free subscription.
Consists of materials donated by families or individuals which related to the archaeology, natural science, or history of the Colorado Plateau and/or Flagstaff. The Archives holds over 340 manuscript collections, which include published and unpublished manuscripts, voice recordings, personal papers, and photographs.
Consists of approximately 284,000 items including; negatives, glass plates, 35 mm slides, color transparencies, lantern slides, photographic prints, photogravures, and mounted photographic displays covering the late nineteenth century to the present. Images cover the Colorado Plateau and the various research areas of the Museum of Northern Arizona.
Consist of published, limited publication, and unpublished reports, findings, and research conducted by local, state, or federal agencies, and/or private companies covering areas and issues consistent with the Library's collection scope. (i.e., site reports, site plans, environmental impact statements, etc.). For approved researchers, additional reports may be found in the Site Files and/or Project Files, which fall under the purview of the Archives and/or other Museum departments.
The Rock Art Studies project is a searchable bibliographic database of the World's rock art literature and contains 35,000 citations as of spring 2017. The RAS database was hosted as a joint project between the Bancroft Library (University of California - Berkeley) and the Bay Area Rock Art Research Association (BARARA) from 2003 - 2016. In fall of 2016, BARARA affiliated with the Museum of Northern Arizona to continue the free and open access to the RAS database project.
Consists of one-off articles, brochures, clippings, journals, magazines, manuscripts, pamphlets, booklets, etc., which have been collected to assist with fulfilling research requests.
Permissions
If you are interested in obtaining copies of our materials, please see our Policies and Access page or use the links provided below. Copies are subject to copyright laws and approval must be obtained for any publication.
Commercial Photograph Use Fees
Non-Profit Photograph Use Fees
For more information about the Permission process, please contact the Archivist.
To see projects the Library & Archives has partnered on or assisted with, see our Archives-in-Action page.
See our FAQs page for guidance on how to intern, volunteer, donate, take a tour, and other general inquiries.
Home | About | FAQs | Policies and Access | Useful Links | Archives-in-Action