Home | About | FAQs | Policies and Access | Useful Links | Archives-in-Action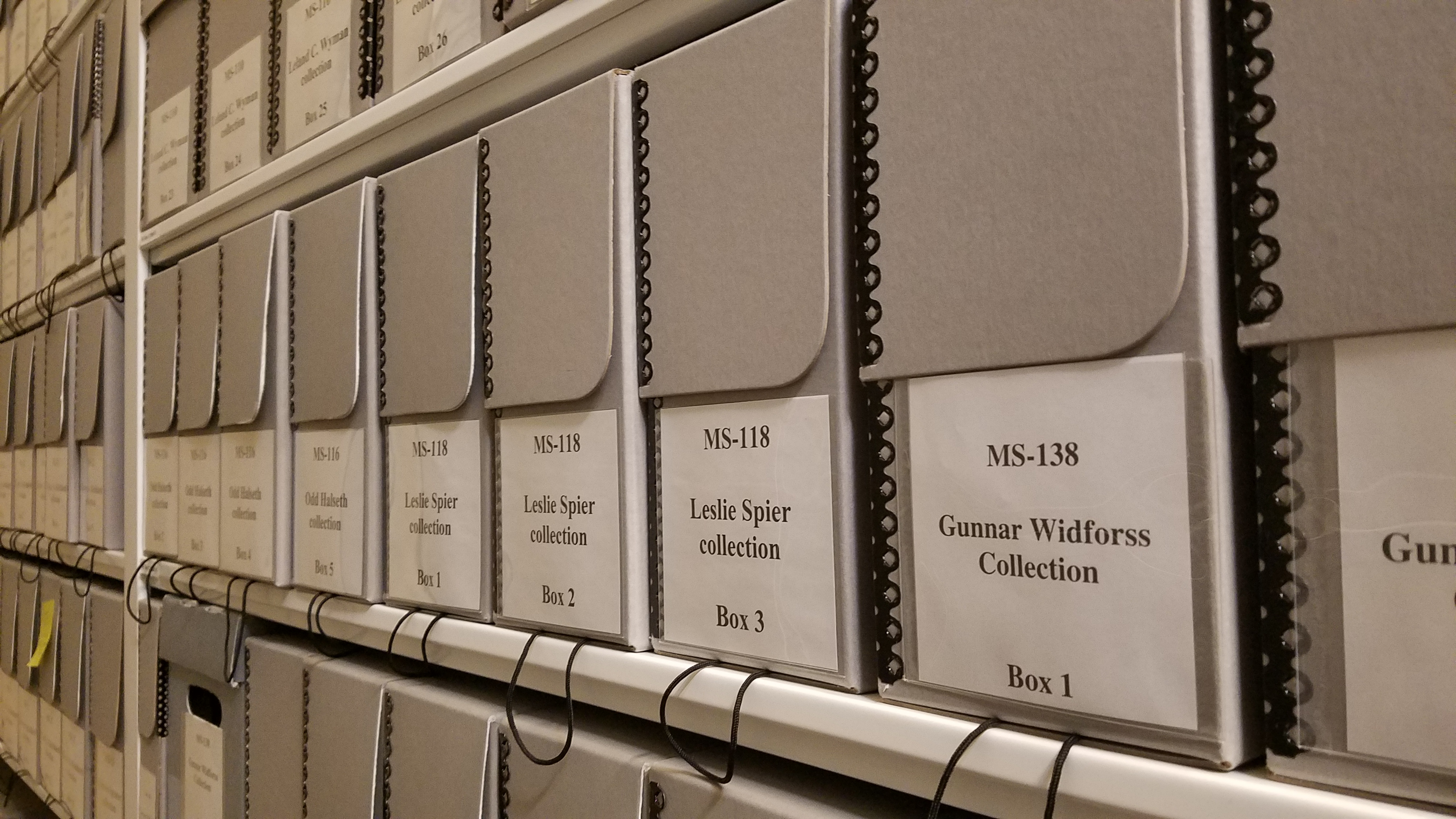 ACCESS
The Library & Archives are open to researchers by appointment. Contact the Archivist (vacant) to set-up your appointment. Please allow at least 30-days advanced notice for your intended research visit. Available hours are generally Monday-Friday, 10 am to 4 pm.
For the safety and security of our resources, all visitors are monitored during their visits in both the Archives and the Library. Be advised that electronic and video monitoring are in use at the Easton Collections Center (ECC).
CHECKOUT
All materials are non-circulating. Visitors must request materials directly from Library & Archives staff. The Archivist will also provide some basic review of materials to help you determine if a visit is necessary and/or if a local researcher should be hired.
Due to the nature of our materials, the Library does not allow the public or researchers to checkout items. Visitors are welcome to use our materials onsite during research visits and/or our public hours.
COLLECTION DEVELOPMENT
The Archives is guided by the Collections Management Policy.
The Library is currently updating its Collections Development Plan, to meet the changing needs of researchers, the institution, and adapt to technological developments.
DONATIONS
The Library & Archives accepts donations of gifts, manuscript collections, papers, photographs, books, and other materials in accordance with the Museum Development Office's guidance, the Collections Management Policy, and the Library's Collection Development Plan. The best place to start is by contacting the Museum's Development Office.
FEES
There is no fee to access the collections. There are fees assessed for duplication and publication. Fees collected are utilized to care for the physical and environmental preservation needs of materials, and to provide greater access.
Copies
Copies and/or scans may be permitted, depending on the condition of the item and whether there are any restrictions on copying. Copy fees are currently 30 cents per page. A $12 surcharge will be added to the cost of photocopying beyond 70 pages. Digital files (PDFs) are $18 per file of 30 pages or less, more than 30 pages are charged at 30 cents per page.
Please have exact change or a check when requesting copies. To request to have copies sent to you, contact us via the contact form. Mailed copies are 30 cents per page, plus shipping. Copies are subject to copyright laws and approval must be obtained for any publication. To request permission to use or publish materials, please fill out the Permission to Use form.
Photographing for research or publication with cell phones will not be allowed for culturally-sensitive material. Culturally sensitive items may only be photocopied (and will be clearly stamped) with the written permission of the correct tribal authority.
Commercial Photograph Use Fees
Non-Profit Photograph Use Fees
Checks should be made out to: Museum of Northern Arizona.
INTER-LIBRARY LOAN
Due to the nature of our materials and resources, the Library does not participate in inter-library loan (ILL) programs.
PERMISSION TO USE
Our goal is to answer Permission to Publish requests within 30 business days.
For permission to publish requests, publication requirements are key considerations. Please consult with your publisher or understand basic information needed, such as, the citation of the material, your deadline, and how the image will be used (publication, presentation, advertisement), and image specifications (dpi, dimensions, file size, etc). To request permission to use or publish materials, please fill out the Permission to Use form. Permission to Use requests are subject to Fees.
REFERENCE & RESEARCH REQUESTS
Due to limited resources, we try to answer Reference Requests within 4-6 weeks of receipt. To help expedite your requests, please provide as much information as possible including your name, mailing address, a telephone number in case we have questions.  If additional research time is required to locate materials because of an unclear citation, it may take as long as three months to assist with your inquiry. Early Spring through late Fall are our busiest research times, so requests may take longer during that time. Multiple contacts may be required.
Contact the Archivist (vacant) to start your research request.
RESTRICTIONS
Some of our collections are "restricted." We have identified these collections on our finding aids which can be found on the Library & Archives Home Page. However, these "restrictions" range from entire collections to a few individual items. Many of the restrictions have been put in place in consultation with Tribal communities, and they may allow access after consultation and approval. This process is in line with the Protocols for Native American Archival Material. Please contact the Archivist to discuss any research request with collections noted as "restricted."
Home | About | FAQs | Policies and Access | Useful Links | Archives-in-Action