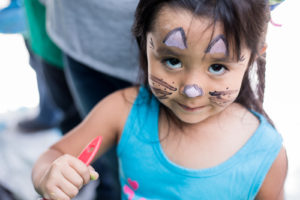 Discovery Summer Camps: Ages 4–5
Register now for July camps

Note: June camps were canceled, but we are still hoping to be able to hold camps in July. At this time of uncertainty, we are collecting registrations only to hold your place, payments will be made after June 15 when we are able to confirm that the July camps can take place. Registration closes on Thursday at 5:00 pm before the first day of camp.
Register Now
Members receive a 10% Members Discount. Not a member? Join Today
__________________________________________________________________________________________________________
2020 Camps for Ages 4-5
Please note that Sessions I and II are the same camp repeated
Pottery and Painting
Bring a smock, learn about art and open doors to your imagination. Express yourself by painting, sculpting and tye-dying fabric. Get to know how famous painters used color and shapes to create masterpieces.
Educator: Kelly Woodruff
Cost: $165
Dates: July 6-10, 9 a.m.–1 p.m.
It's A Bug's Life
Discover a day in the life of a bug! Squirm and wiggle into the amazing worlds of butterflies, spiders, beetles, scorpions, and worms. Look at life from a bug's perspective, as you join in outdoor activities, crafts, games, and songs. Families are invited to a Friday bug fiesta.
Educator: Mari Soliday
Cost: $165
Dates: July 13-17, 9 a.m.–1 p.m.
Aquatic Animals
Come learn about animals that make their home in the water. We will observe and study various creatures in the Museum's pond and creek along with crafts, games and stories.
Educator: MNA Staff
Cost: $165
Dates: July 20-24, 9 a.m.–1 p.m.
Dino-Mite Friends
Are you ready to dig into the long-ago world of dinosaurs? Have a blast while learning about dinosaur friends with games, songs, storytelling, and dino-mite activities. Families are invited to a Friday dino fiesta.
Educator: Mari Soliday
Cost: $165
Session dates: July 27-31, 9 a.m.–1 p.m.
__________________________________________________________________________________________________________