...

2022 Slow Art Day
Rush in, slow down and take five minutes to look at pieces of art from our newest exhibition: Baje Whitethorne Sr.: Nááts'íílid (Rainbow Light)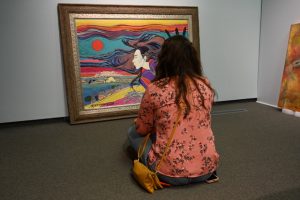 What is Slow Art Day?
Slow Art Day is a global event with a simple mission: to help more people discover for themselves the joy of looking at and loving art. When people look at art slowly, they return to the moment, see more and make their own discoveries.
What will happen at MNA on Slow Art Day?
Upon arrival, you will be given a Slow Art Day cheat sheet, which will guide you through the process of slowly looking at art. You then head off on your own in the Baje Whitethorne Sr. exhibition, choosing the order you want to see the artworks in. But remember… SLOW DOWN!
Then, at 2pm, all participants are welcome to gather in the Living Room with Alan Peterson, MNA's Curator of Fine Art, to share what you saw from slowing down and discuss the experience.
FREE with museum admission.
MNA is open 10am-4pm, reserve your tickets today: https://bit.ly/3NirE86