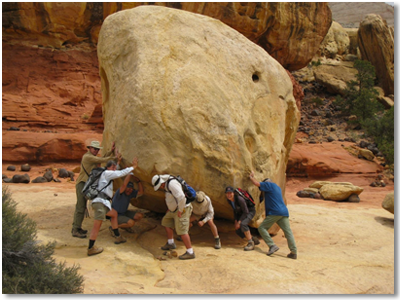 "Participating in the Venture program gave me an extra dimension of appreciation. It was the difference between just visiting an amazing place, and getting an education into the possibilities of the place."—B. K.
Like other MNA Ventures, our hotel based trips focus on providing a quality educational experience in the outdoors. These programs cater to those who want to learn about the Colorado Plateau's natural history, while enjoying some of the Southwest's best accommodations and restaurants.
Easy-to-moderate day hikes are typical, so these trips are suitable for nearly everyone. Our guides are not only the most knowledgeable, experienced educators in the business, but they are also the most enthusiastic. Most importantly, they know how to present even the most complex concepts in a way that is accessible to all participants.
2017 Hotel-Based Trips
Arches and Canyonlands with Wayne Ranney, April 3-7 2017  *Trip Full
Hopi Heritage Trip, October 15-18, 2017
Unless otherwise noted, all hotel-based Ventures include some meals, snacks, transportation from MNA, and lodging. You only need to bring your personal gear.
Save
Save
Save