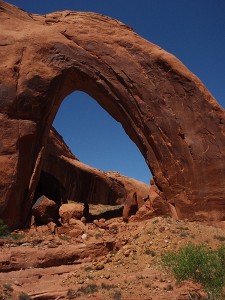 Trip Leader: Wayne Ranney
The colorful, expansive mesas and buttes of Canyonlands National Park and delicate rock formations in Arches National Park will serve as the backdrop for this venture into discovering the powers of Mother Nature at work. Geologist Wayne Ranney leads day hikes (usually three miles or less, round trip) through this slick rock country around Moab, Utah, as we explore the geology and natural history of this spectacular part of the country. Adventures will begin and end from the comforts of the Gonzo Inn (serving complimentary continental breakfast).
Dates: April 4–8, 2016 (5 days / 4 nights)
Cost: $1,650 Member / $1,750 Non-member
Cost includes transportation from MNA, hotel (double occupancy; add $300 for single lodging), lunches and snacks. All other meals are an additional expense.
Difficulty: Easy to moderate
Accommodations:  The Gonzo Inn, Moab, Utah
What to expect: We will be traveling by either an MNA vehicle or a rental van. Our trip begins and ends in Flagstaff, ranging in elevation from 7000 ft. to 4000 ft. Expect some drives on dirt roads, but not 4-wheeling. Participants should be comfortable standing and hiking for several hours. You will be asked to provide your health history and information prior to the trip. Please call (928) 774-5211 x222 if you have any concerns.
Itinerary:
Day 1:  7:30 a.m. meet at MNA Research Center parking lot, depart for Utah stopping at Cameron Trading Post, Kayenta, Monument Valley (easy 3 mile hike), and Bluff to see San Juan River petroglyphs. Overnight in Moab.
Day 2:  Begin in Arches National Park with a hike to Delicate Arch (3 miles) continuing on to Landscape Arch for a short hike followed by a picnic lunch in the Arches campground. Visit Park Avenue Trail. Return to Moab for dinner.
Day 3:  Explore the Island in the Sky area of Canyonlands National Park. Walk to Mesa Arch (one mile), Upheaval Dome Overlook where a meteorite hit the earth 60 million years ago. Picnic lunch and continue to Grandview Point for a 2 mile hike to the edge of the cliff. Return to Moab for dinner.
Day 4:  Visit Colorado River Canyon Byway area, hike to Morning Glory Arch in Negro Bill Canyon (5 miles) and stop at movie museum located along the Colorado River. Continue to Fisher Towers for a short but spectacular hike. Return to Moab for dinner at restaurant overlooking the town.
Day 5:  Depart for Flagstaff stopping at Newspaper Rock-a petroglyph site near the Needles District of Canyonlands National Park and short walk to Cave Springs. Continue to Kanab for lunch and Visitor Center, Toadstools for a one mile hike to some colorful hoodoos. Arrive at Museum by 6:00 pm.
Deposit: $200
Final Payment due: February 4, 2016
Register Now!