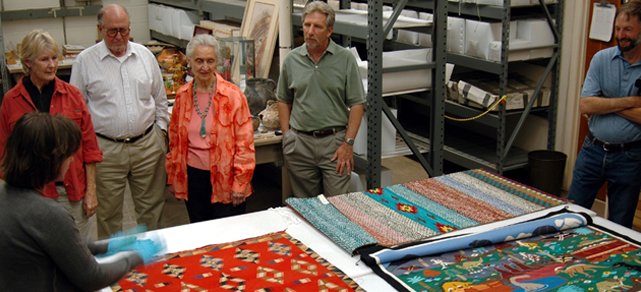 The Museum of Northern Arizona has extensive cultural, natural science and fine arts holdings. Does it make you wonder why a museum would maintain such a wonderful collection when only a small portion is on display? Come on a collections tour only if you want to see something beyond the average tourist offering. Besides viewing collections, you will find out about their life behind the scenes - who uses them, who borrows them, what current projects are underway, and why they exist. You can also find out how to care for your own family heirlooms.
Regularly scheduled walking tours of Collections are offered at 4 p.m. on select Fridays between May and September for either archaeology, botany, ethnology, fine arts, or paleontology (schedule and tour information below). Pre-registration is required and children must be 10 years of age or older. Collection tours are free to members (donations appreciated) and $12 for non-members. Special tours can also be arranged at other times and dates. 
Join Now!
Call the Membership Office (928.774.5213 x219) to reserve your space.
2017 Collections Tours by Date
May 19 - Botany
June 16 - Archaeology
July 21 - Fine Arts
August 18 - Paleontology
September 15 - Ethnology
Collections Tour Information for Attendees
Most collection storage areas are ADA accessible, but please let us know if you or your group has any special needs or requests.
Bring only necessary personal items. Bags, purses, bulky coats and other items must be left in a secured area in collections before the tour begins.
Closed shoes and long pants are recommended.
The tour limit is 10 people with a minimum of 4.
Guest passes are not valid for this program.
Tours begin promptly at 4 p.m.