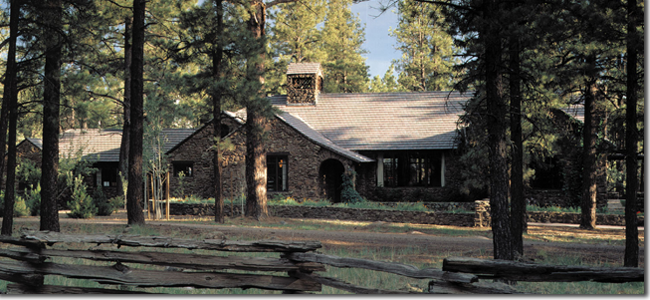 Host your next event at the Museum of Northern Arizona From corporate meetings and retreats to exquisite parties and weddings, the Museum provides an unparalleled experience for you and your guests. Beautiful architecture fuses with sweeping views of the San Francisco Peaks providing an unforgettable setting for your special event.
The Museum of Northern Arizona offers several key locations for indoor and outdoor events. Each facility has its own unique charm and personality. Listed below are our most popular options.
Historic Colton House: Located in a secluded residential neighborhood surrounded by nature, the historic Colton House was the home of Museum co-founders Dr. Harold S. Colton and his wife Mary-Russell Ferrell Colton and provides a wonderful architectural experience and awe-inspiring views of the San Francisco Peaks. The Colton House provides a great intimate space for business meetings, retreats, weddings, and much more. Outdoor and indoor options are available depending on the season and weather. A maximum of 75 people can be accommodated at this location for any event.
Branigar-Chase Discovery Center (Branigar Hall, Katherin L. Chase Gallery, Sara Lee Branigar Reception Room, and The Patio included):  Located inside the exhibit building, this multipurpose facility is great for small to large events such as meetings, lectures, conferences, banquets, weddings, and more. The Patio offers an informal outdoor setting option for any event depending on weather conditions. Set up options include:
Up to 60 people for school room seating
Up to 150 people for a seated reception dinner
Up to 175 people for a seated lecture/conference
Up to 250 people for a standing cocktail reception
Stadium/Theatre seating available for 160 people
Rio de Flag Tent: Located outside the exhibit building this multipurpose facility is only available from mid-June to mid-August. Great for receptions, parties, weddings, and more, the Rio de Flag Tent is a recent addition to the Museum's venue options. Up to 250 people can be seated for a reception dinner.
Pearson Hall: Located on the Museum's Harold S. Colton Research Center. Pearson Hall is a great location for small meetings and gatherings of the formal or informal variety. Seating for up to 40 people.
For pricing, tours, or other information, please contact the Museum's Facility Use Coordinator at toursandevents@musnaz.org, 928-774-5213 ext. 221, or by clicking the link below to fill out a Facility Rental Request online.