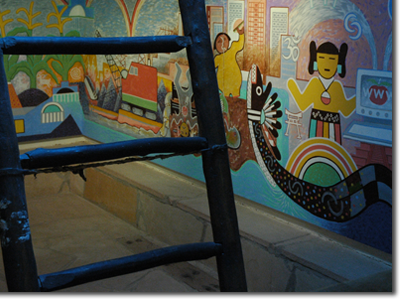 The Hopi Kiva Gallery offers additional insight into the daily lives of these people and a chance to see the artwork they create. In the north end of the gallery is a re-created subterranean space like a kiva, and extending around three walls is a contemporary mural painted by Hopi artists.
Contemporary Hopi arts displayed in the Kiva Gallery include pottery, basketry, and weavings. Additionally, a Katsina doll display is arranged to describe the Hopi ceremonial year.
The modern kiva mural extending around three sides of the kiva was painted in 2001 by Hopi artists Michael Kabotie and Delbridge Honanie and is one of the cannot miss things to do in Flagstaff.
Take a tour of the Hopi Kiva Modern Mural