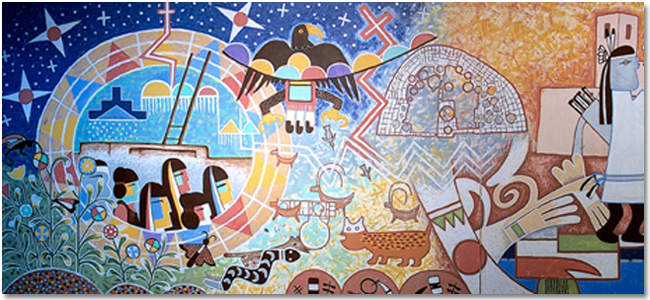 Hopi Iconography Project
The Hopi Iconography Project is a collaborative effort of the Museum of Northern Arizona and the Hopi Cultural Preservation Office (HCPO) to explore and interpret Hopi cultural continuity through art, archaeology, linguistics, and oral traditions. MNA's Anthropology Department and the HCPO are working together to study the expression of Hopi values and lifeways in pottery, mural painting, basketry, petroglyphs, and other media, past and present.
Iconography is the study and interpretation of  pictures or images, which may or may not have symbolic meanings as well as an apparent or superficial meaning.
The Goals of the Hopi Iconography Project include:
Interdisciplinary and collaborative studies of Hopi ancestral "footprints," including pottery, architecture, tools, petroglyphs, rock paintings, and mural paintings.
Re-design the Hopi sections of MNA's archaeology and ethnology galleries. Exhibit content and themes will capture Hopi experience, perspectives, and interests, emphasizing cultural continuity, migrations, and ancestral "footprints," cultural landscapes, traditional ecological knowledge, and expression of Hopi values and aesthetics in the cultural arts of pottery, basketry, textiles, painting, carving, jewelry, and other media. Project Director: Susan Secakuku
Visual repatriation: compile images of Hopi pottery and mural paintings in museum collections throughout the nation and make them available for study.
To work with Hopi and non-Hopi educators to provide curriculum materials about Hopi lifeways, language, history, philosophy, and traditional ecological knowledge to Hopi students and other public schools, in collaboration with the Hopi Footprints Project, a collaborative K-12 educational program of the Hopi Tribe and Northern Arizona University.
Produce publications for both popular and scholarly audiences.
Identify and secure appropriate financial resources, such as grants and donations to create permanent and traveling exhibits, publications, and curriculum materials.
Click on the following links to learn more:
Project History and Milestones
The Hopi World: Images, Objects and Commentary