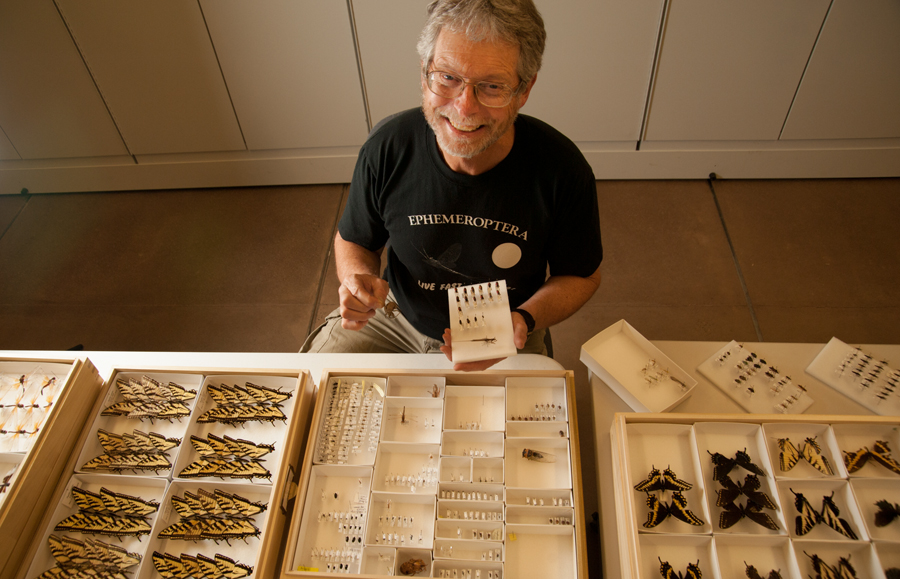 Larry Stevens, Curator of Ecology
Dr. Larry Stevens is an evolutionary ecologist and the Coordinator of the Museum of Northern Arizona's new Springs Stewardship Institute, which is dedicated to improving understanding and stewardship of springs ecosystems. He also serves MNA as the Curator of Ecology, and is the Senior Ecologist for Grand Canyon Wildlands Council, a conservation organization in Flagstaff. Originally from Cleveland, he received his undergraduate degree from Prescott College in 1974, and his Masters of Science (1985) and doctorate in Zoology (1989) degrees from Northern Arizona University. He is a long-time Colorado River whitewater guide, and served as Ecologist for Grand Canyon National Park (1988-1994). He has conducted extensive research on southwestern biogeography, conservation ecology, endangered and non-native species biology, as well as springs, riverine, wetlands, and dam ecology and management. He has written more than 70 scientific peer-reviewed articles, three books, and numerous popular articles on water-related resources and management in the Southwest. His recently completed co-authored book on the ecology and conservation of North American springs is widely recognized, and he is presently working on a sequel on springs stewardship. Dr. Stevens resides in Flagstaff, Arizona, with his wife Jeri and daughter Phoebe.
PERTINENT EXPERIENCE, EMPLOYMENT, BOARDS:
2012-present  Coordinator, MNA Springs Stewardship Institute
2006-present  Curator of Ecology and Conservation, Museum of Northern Arizona,  Flagstaff
2006-present  Grand Canyon National Park  ATBI Coordinator
2005-present  Science Advisor for Ecological Monitoring  & Assessment, Babbitt Foundation and NAU
2003-2008     Grand Staircase National Monument,  Chair and Science Advisor
2004-2006      Board of Directors,  Museum of Northern Arizona, Flagstaff
2003-2005     USFWS-trained  WIFL surveyor, Yuma, AZ
2001-present  Yuma East Wetlands Restoration Project, vegetation and avifaunal analyses and monitoring
2001-2005      President, Grand Canyon Wildlands Council, Flagstaff, AZ
2000-present  Grand Canyon Wildlands Council, Inc., Senior Ecologist
1999-present   Principal Investigator,  Stevens Ecological Consulting, LLC, Principal
1999-2006      Associate editor, Western North American Naturalist
1998-2000.     Benthic aquatic biological analysis of 'Ahakhav Restoration Project, Colorado River Indian Tribe,  Parker, AZ
1998-1999.     Ecologist, Department of the Interior, Grand Canyon Monitoring and Research
Center, Flagstaff, AZ.
EDUCATION
PhD Zoology, Northern Arizona University, Flagstaff, 1989
MS  Biology, Northern Arizona University, Flagstaff, 1985
Selected coursework in biology and fine arts, Univ. of AZ, 1977-1978
BA  Biology & fine arts, with honors, Prescott College, Prescott, AZ 1974
Graduated with honors, Rocky River High School, Rocky River, OH, 1970