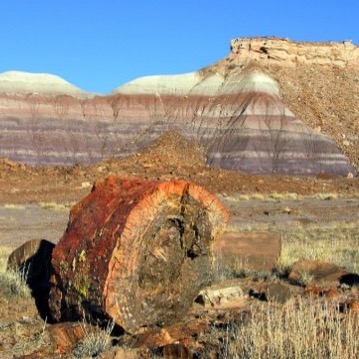 Petrified Forest
October 22, 2022
10:00 am - 5:00 pm
Trip Leader: Dr. Kent Colbath
Cost: $100 for MNA members / $120 for non-members
Difficulty: Moderate
The Petrified Forest National Park is one of the most evocative destinations in Northern Arizona for bringing life to the ancient geologic past. In addition to the huge, petrified logs found throughout the park, the fossils of hundreds of other species of animals and plants have been recovered by paleontologists who have been working in the area for over a century.
The morning will feature a guided hike led by park paleontologist Dr. Adam Marsh to an important vertebrate fossil locality outside of the developed trail system. This hike is less than two miles long, but there are a few steep stretches. Hiking poles are recommended. Dr. Kent Colbath, will be your Ventures trip leader and guide. The Rainbow Forest Museum, our last stop, closes at 5:00 pm.
Participants will provide their own transportation, lunch, water, and snacks. This park is a "drive through" National Park, with various viewpoints/hikes, there is a fee to non-park pass holders of $25 per vehicle. Please dress for the weather and bring sunscreen. The drive from Flagstaff is about 1 hour and 40 minutes.