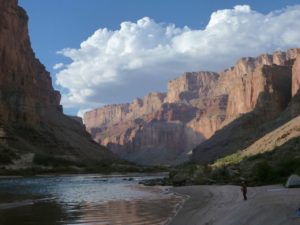 Dates: May 7-14, 2021 (7 days/6 nights)
Trip Leader: Wayne Ranney
Cost: $4,025 Member/$4,125 Non-Member
Details: A seven-day, six-night, fully outfitted motorized rafting trip on the Colorado River with Grand Canyon geologist and expert Wayne Ranney.
The trip begins with an orientation lunch and a behind the scenes tour of the Museum's fantastic collections. This will prepare us for our rafting trip and show us how the Museum has been a leader in scientific research in Grand Canyon. These collections are not normally on display at the Museum.
Outfitter: Colorado River & Trail Expeditions (CRATE), a small family-owned company that has offered river trips through Grand Canyon since 1971.
Your Guide: Geologic educator, author, lecturer, trail and river guide, Wayne literally wrote the book on the canyon's formation and is the author of "Carving Grand Canyon."  More information can be found on his website and Geology blog:
https://earthly-musings.blogspot.com/
Cost Includes: Orientation meeting, lunch, and special tour of three different collections at the Museum of Northern Arizona on Friday, May 7; Round trip transportation from Flagstaff to the river and back (by motor coach to the river and by helicopter and fixed-wing aircraft back to Flagstaff); fully outfitted seven-day, six-night rating trip on motorized pontoon boats through 188 miles of Grand Canyon; all meals from lunch on May 8 to lunch on May 14; use of the Bar-10 Ranch facilities after our trip for hot showers; use of a sleeping kit including cots, tents, sleeping bags foam pads and folding chairs; use of dry bags for clothing and sleeping kit; cutlery for use at meal times and the use of life preservers and entry fee for Grand Canyon National Park ($20 per person). Complimentary water bottle, coffee cup and duffle bag yours to keep after the trip.
Not Included: Hotel room in Flagstaff for May 7 and 14; meals not listed above and items of a personal nature.
We expect this trip to be fully subscribed with a waiting list so reservations and deposits are required.
Call 928-774-5211, ext. 284 or email bmoons@musnaz.org for details, registration information, questions or concerns.
The deposit is $500 per person and is non-refundable (unless your space can be filled, in which case it is fully refundable minus a $100 cancellation fee). Balance will be due by January 5, 2021 and is also non-refundable (unless your space can be filled).