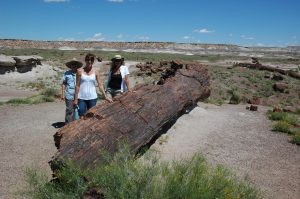 Date: Saturday, October 31, 2020; 7:30 AM - 6:00 PM.
Trip Leader: Dr. Kent Colbath, Geologist
Cost: $100 Members/ $120 Non-members
Difficulty: Easy to Moderate
Details & Itinerary:
Petrified Forest National Park includes some of the best localities found in the Chinle Formation, world famous as a source of Triassic fossils from the dawn of the "Age of Dinosaurs." This is a great trip for fans of fossils and Arizona's colorful landscape alike! After the two hour drive from Flagstaff our first stop will be at the Visitor Center by the park's north entrance, where the staff have kindly agreed to give us a tour of the fossil preparation lab. Next we'll stop at Chinde Point for a picnic lunch inside an extinct volcano (part of the Hopi Buttes Volcanic Field) with spectacular views of the Painted Desert Wilderness Area. After lunch we'll proceed south through the park, with at least one short hike (to be determined) to examine fossils in the field. In the late afternoon we'll finish up at the Rainbow Forest Museum at the south end of the park with an hour of unstructured time for examining the exhibits, more hiking, or checking out the gift shop. We'll return to Interstate 40 via US Highway 180 through Holbrook, and then back to Flagstaff.
Participants bring a water bottle, lunch, snacks, hat, sunscreen, good walking shoes, and your camera.
MNA will provide transportation, extra water, all permits and guides.
Please call (928) 774-5211 x222 with questions or concerns.
Register Now[/vc_column_text][/vc_column][/vc_row]