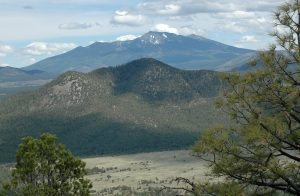 Dates: Saturday, May 2, 2020
Time:  8:30 am-3 pm
Trip Leaders: Dr. Kent Colbath, Geologist
Cost: $60 Members/$80 Non-Members
Difficulty: Moderate
Details & Itinerary:
Located off of Highway 180 near Red Mountain, Slate Mountain (which is not made of slate) is a beautiful example of a small, extinct volcanic dome. The trail to the top follows an abandoned fire lookout road, which spirals around the mountain and provides the best views of the San Francisco Peaks Volcanic Field of any of our short hikes. The trail progresses through three of our four forest life zones in only 5 miles total to the top and back. In early May we may see abundant wildflowers at the base of the mountain. Time permitting we will make a quick stop after the hike to collect obsidian.
Participants bring a water bottle, lunch, snacks, hat, sunscreen, good walking shoes, hiking poles and your camera.
MNA will provide transportation, extra water and guides.
Please call (928) 774-5211 x222 with questions or concerns.
Register Now