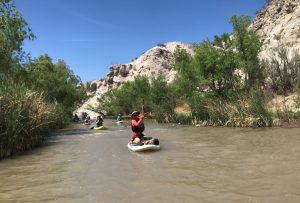 Dates: Friday April 17, 2020
Time: 8:00 am-6:00 pm
Trip Leader: Derik Spice, Grand Canyon Boatman and Field Educator
Cost: $185 Members/$210 Non-Members
$140 Youth ages 12-17
Difficulty: Moderate
Details & Itinerary:
Join experienced river guide and instructor, Derik Spice, for a day long paddle adventure in an inflatable kayak or a stand-up paddleboard down a gentile section of Arizona's Wild and Scenic River. This unique riparian habitat offers stunning scenery, a variety of fish and wildlife, and beautiful bedrock canyons. We will make stops along the way to learn about the river's geology and ecology.
Participants bring a water bottle, hat, sunscreen, and good water shoes. This is an active trip and most of the day will be spent paddling a kayak or stand-up paddle board. Swimming ability is required. Weather dependent, rain gear is also recommended.
MNA will provide transportation, extra water, lunch, boating equipment, and guides. Please inform MNA of any food preferences/restrictions.
Please call (928) 774-5211 x222 with questions or concerns.