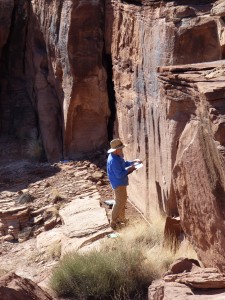 In addition to monetary contributions, the Museum is always in need of specific items to benefit our many programs and activities. From trowels for the Community Garden, to a pick up truck to plow snow, we are grateful for gifts of all kinds.
Should you have any of the items below as gently used or would like to purchase them for the Museum, please see the instructions at the bottom of the page on how to arrange delivery or drop off.
You can also purchase many of these items and more on our Amazon Wish Lists (many headings are linked below) and don't forget to sign on through AmazonSmile to support the Museum twice! We appreciate everyone who donates to MNA through Amazon, however, your donation will remain anonymous unless you choose to include a "gift note." Please include your name as well as an email and/or mailing address so we can send you a thank you and donation receipt.
Anthropology/Archaeology
MNA's crack researchers could use some additional tools to make their
time in the field documenting archaeologysites as efficient as possible.
Botany & Colton Community Garden
Did you know that our garden .... gives Discovery Camps a space for hands-on learning; creates a dynamic volunteer opportunity with measurable results for NAU students; provides an active educational experience for Peaks seniors; exposes the community to green skills with composting workshops; hosts a heritage garden that explores traditional Native American agriculture!
Colton Garden

Supplies: 4' x 25' hardware cloth, frost cloth, chicken wire, trellises, 42" Tall tomato cages 55 gallon barrels, trowels, garden rakes, gardening gloves, hand pruner, lawn aerator
Gift cards: Home Depot, Tractor Supply, CalRanch
Collections & Archives
Caring for our extensive collections is a big job (over 185,000 holding in the Easton Collection Center alone), and these are a few of the items that would assist the collections staff and volunteers in their task ...
Widescreen monitor, 27"
Platform cart
Lightbox
Nikon FH-835M 35mm Mounted film holder
Discovery Kids Programs
Our children's programs need all sorts of supplies to bring art and science camps to life ...
Ecology & Springs Stewardship Institute
These items will help our amazing ecology team gather data in the field that in turn helps us educate the public about the environment and eco-systems on the Colorado Plateau!
Communication
The more people who know about the Museum, the more support our educational programs can receive! Help us spread the word about the great work we do at MNA...
Big Asks

Pickup truck - You may not know that we plow our own snow here at the Museum,
and our old pick-up truck is just about ready to retire.
Ship to address: 3100 N. Fort Valley Road, Flagstaff, AZ 86001 (please indicate the department or program clearly on the mailing label)
We appreciate your generous donations. If you live within driving distance of MNA and would prefer to drop off your donation in person, please contact the Development Office at 928.774.5211, ext. 227 or development@musnaz.org to schedule a date and time. We are also happy to answer any questions about the appropriateness of a donation.
---
The Museum of Northern Arizona does not provide legal or tax advice.
Any individual considering a gift should seek independent tax and financial advice.

The Museum of Northern Arizona is a 501(c)(3) non-profit organization EIN 86-0098920