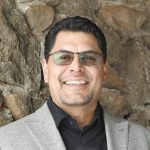 John Haro
John Haro is proud to serve on the board of trustees as Chairman for the Museum of Northern Arizona. John joined the board of trustees in 2018, and held the vice chairman position for the past two years and currently supports numerous MNA committees.
After serving 36 years with Arizona public service, John retired as Sr. Director in the Transmission & Distribution organization in 2022. John successfully earned the opportunity to hold various frontline and management positions throughout APS. Some of the most memorable moments in his career were completing the APS Journeyman Lineman apprenticeship and worked for 16 years in the line trade before being promoted into leadership. John led an Operations and Maintenance team 2010. In 2012, he led the Energy Control Center (ECC) where he directed the grid operations team responsible for the Bulk Electric System (BES) / EHV (Extra High Voltage) grid in the southwest region. In 2014, he was promoted to Sr. Manager of Transmission Maintenance and in October of 2016, John earned the Director position headquartered in Flagstaff. 
John also served on the Northern Arizona Leadership Alliance (NALA) board and Coconino Hispanic Advisory Council (CHAC) appointed by the Coconino county board of supervisors.
John and Laurie have four beautiful children and one granddaughter. John enjoys leadership/personal development, arts, woodworking, sports, the outdoors and spending time with family. John is also a proud Marine