Regular museum talks and discussions cover a broad range of topics. Most talks from 2020 forward can be watched live on Facebook and afterward on the MNA YouTube channel.
Not all talks fit within one of the series noted below. Check the MNA calendar to find upcoming talks and other presentations.
Some levels of museum membership provide enhanced access to talks and other museum programs. For information call 928.774.5211, ext. 219 or email membership@musnaz.org.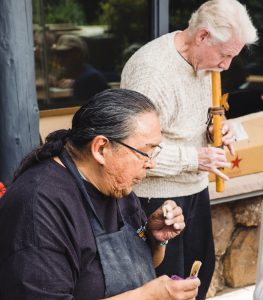 Appropriation in the Arts: Centering Authenticity series
You appreciate Native American culture and art and want to support the artists, but walking into a gift shop can be confusing. Sometimes the shelves are filled with counterfeit Indigenous art mass produced overseas. This series of panel discussions will expand the audience's understanding of what constitutes authentic Indigenous art versus art that has appropriated aspects of Indigenous culture and create deeper connections between artist, culture, and community.
The Museum of Northern Arizona and Sedona Arts Center are collaborating on this series funded by Arizona Humanities with the intention of helping the public better engage with Indigenous cultures and art. Each panel includes Native and non-Native experts, representing a mix of traditional, contemporary, accepted, and challenged perspectives on Indigenous representation. Attendees will gain knowledge that will foster their ability to appreciate and differentiate authentic representation from appropriation.
Moving from Appropriation to Authenticity, September 17, 2 PM at the MNA
Panelists artist Liz Wallace (Diné), Mark Bahti of Bahti Indian Arts, and Heard Museum Director of Community Engagement Marcus Monenkerit. Download the reflection coloring page designed by Corey Begay
More Than a Meal
November 5, 2 pm at MNA
Panelists Chef Jaren Bates (Diné), Chef Brett Vibber, and Toasted Sister podcast producer Andi Murphy (Diné).
Drawing Cultural Inspiration
January 21, 2024 at the Sedona Arts Center
Panelists artist Jason Garcia (Santa Clara/Tewa), Museum of Indian Arts and Culture Curator of Ethnology Antonio Chavarria (Santa Clara), Charles King of King Galleries, and artist Susan Kliewer Dolan.  
Insights series
Discover the diversity, complexity, and commonalities of the human experience through the perspectives of the many peoples of the Colorado Plateau. From artist panels on indigenous futurism to traditional dance performances and candid discussions about the impacts of Covid-19 on the Hopi and Diné (Navajo) nations topic, search the event calendar for "Insights." Past Insights presentations can be found in the Insights playlist on the MNA YouTube channel.
Artist demonstrations

Watch the fascinating process that goes into creating many of the beautiful objects displayed in the museum. From carving soft tufa stone to cast silver jewelry to weaving yucca fronds into baskets, artists continue to use traditional techniques to bring their visions to reality. Past artist demonstrations can be found in the Insights playlist on the MNA YouTube channel.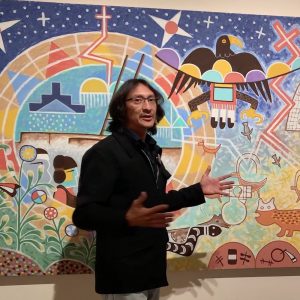 Gallery talks 
Curators, artists, and experts provide further insights into exhibitions within the museum. To see the next topic, search the event calendar for "Gallery." Past gallery talks can be found in the Exhibitions playlist on the MNA YouTube channel.
Garden talks 
Unbound by gallery walls, the museum grounds provide an ever-changing display of the plants and ecosystems of the Colorado Plateau. From natural springs and a creek running through a sheltered canyon to a demonstration gardens where heritage crops grow, there's a lot to be learned by walking around, and even more when one of the garden experts points it out, as they do during these talks. Past garden talks are found in the Gardens playlist on the MNA YouTube channel. Check the MNA calendar and Facebook page for upcoming talks,  as well as when volunteers will be in the gardens to answer questions.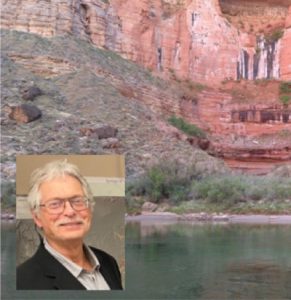 Grand Canyon talks 
Here's a chance to "go deep" into the Grand Canyon, without having to go anywhere at all. Drawing upon a century of museum research and connection to the canyon, MNA scientists, historians, and art experts share multi-faceted and in-depth knowledge of this world famous canyon. Learn the geologic, environmental, and cultural history of the canyon, the complex and varied ecosystems it supports, and how the canyon is changing. These talks stream live to Facebook and are then posted to a dedicated Grand Canyon playlist on the MNA YouTube channel.