Remember what drew you to the Museum of Northern Arizona?
Was your first visit during a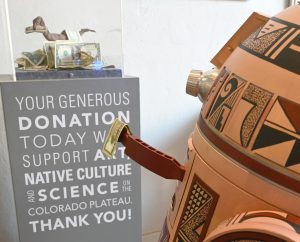 Heritage Festivals?
Did you have a child or grandchild attend a summer Discovery Camp?
Or were you simply interested in learning more about the culture and natural history of this unique and amazing region?
By donating today, you provide the support MNA needs to continue to offer these inspiring and engaging experiences.
MNA receives no guaranteed government funding. We depend on donations from people like you to fund more than half of our contributed income, allowing us to continue educating the public about all aspects of the Plateau – cultural, ecological, geological, and artistic – to empower people to feel responsible for its future.
Your gift today will help sustain MNA's through these difficult times and increase the financial stability we are working hard to solidify. You can donate to MNA's annual operating and endowment funds or to other specific areas of need. Naming opportunities are also available.
Gifts are tax deductible. Online payments are processed securely through Authorize.net.
Double your impact! Many employers will match your donation, so it's worth checking with your Human Resources department. When submitting a matching gift through your company you may need the following information:
Our EIN: 86-0098920
Our Mailing Address:
Museum of Northern Arizona
Attn: Development
3101 North Fort Valley Road
Flagstaff, AZ 86001-8348.
Our Contact Information:
Phone: 928-774-5211, ext. 227
Email: development@musnaz.org
MNA is a private, non-profit 501(c)(3) educational organization. We report annually to Arizona's Cultural Data Project
THANK YOU for considering a contribution to the Museum of Northern Arizona!