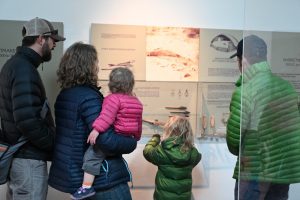 Museums are for everyone, of all ages. Visiting MNA is an easy and enriching family outing. Flagstaff families enjoy repeat visits, while guests from out-of-town find the museum exhibitions deeply enrich their understanding of the area.
Kids age 9 and under get free admission to the museum.
Here are some tips for bringing kids to the museum
Before hand:
Pick a time of day when everyone will be rested, recently fed, and alert. Our advance ticketing system allows you to schedule your visit and know the museum won't be crowded.
Plan together what you want to see. With kids, you're visit will likely be shorter than it would be if you were alone and you will want to take their interests into account. Look together at the MNA Kids Map and talk about what you most want to see. This can build their interest and prepare them for the museum day.
Look at the available printable activities and choose one or two that are appropriate for your child. Young children might enjoy the story "End of the Day at MNA" to prepare for the visit. Older children might pick a scavenger hunt to try or decide to become Jr. Paleontologists.
What to bring to the museum:
Water bottles
Hand wipes We have many items for people to touch and interact with. Some of those were removed during Covid, but others cannot be removed, like the dinosaur thigh bone. Handsanitizer stations have been set up in strategic locations, but you may also want to have handwipes or sanitizer with you for when your child can't resist touching the meteorite.
What to leave in the car:
Snacks to eat before or after your visit. We don't allow food in the museum because it attracts pests who can damage the objects, but there are picnic tables outside the museum.
At the museum:
Ask for an activity kit at the front desk. These are designed to relate to the exhibitions and help kids engage.
Kids don't have to be silent. The museum is a good place to practice inside voices and inside movement (no screaming or running please), but their audible excitement and curiosity about what they see is welcome.
Try not to touch. During normal times the museum has many objects that can and should be touched, but during the Covid-19 pandemic many of those have been removed and we encourage everyone to look or use the stylus provided at the front desk to trigger screens and buttons. If your kids do touch things, be assured that all touchable items are cleaned frequently and there are hand-sanitizing stations strategically placed throughout the museum.
Ask questions and talk about what you see. Museums are a wonderful place to engage imagination and curiosity. Ask open questions to prompt thinking and discussion such as "What do you see?", "What do you think about that?" and "What does it make you wonder?" When you look at a dinosaur skeleton, talk about what the dinosaur might have looked like when it was alive. When you are looking at the buildings and belongings of the Native people, both prehistoric and contemporary, compare what you see to your own lives. Imagine what it would be like to live in a time when you couldn't go to a store to buy food, clothes, or toys.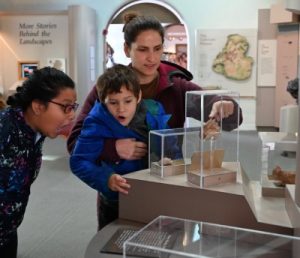 You don't have to know the answers. Sometimes you'll find the answers to your child's questions on the museum labels. If not, there might be a docent nearby you can ask, or better yet encourage your child to ask.
Have fun. Learning doesn't have to be serious. Feel free to be silly. Take selfies trying to pose like a piece of art, in front of that art. Encourage your child to try to make the sounds they think the dinosaur would make, or to try to walk like the dinosaur.
Be respectful. While having fun, be thoughtful of other people at the museum, and of the other cultures represented. This is a great opportunity to teach your children to be respectful of all backgrounds and beliefs.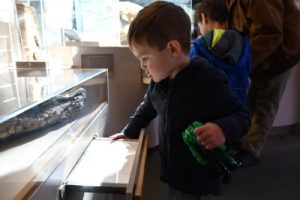 Go at their pace. That may mean spending more time than you would want discussing the dinosaurs and less time looking at art. It also might mean that in a family, one parent rushes ahead with the toddler while the other lingers with the grade schooler, or vice versa.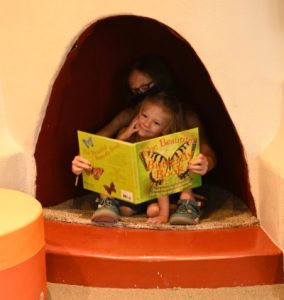 Take a break. We all get tired of standing and looking at things. The Discovery Room provides a place to sit and engage in a quiet activity, whether it's reading a story together, watching a video, or doing a puzzle. When the weather is nice, the Jaime Major Golightly Courtyard is an outdoor space within the museum where kids can make a little more noise, get out some wiggles, and if needed everyone can take a break from wearing masks.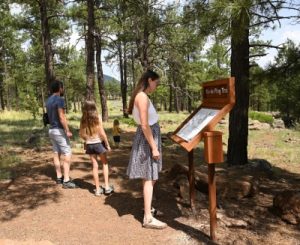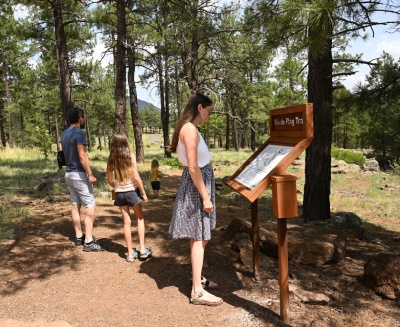 Think outside the building. MNA has many outdoor spaces for kids to let off steam, so after the indoor time, take some time to eat a snack at one of the picnic tables outside, explore the Rio de Flag Nature trail and amphibian pond, visit the gardens, or walk to the nearby Cheshire Park Playground to expend some energy.
After your visit: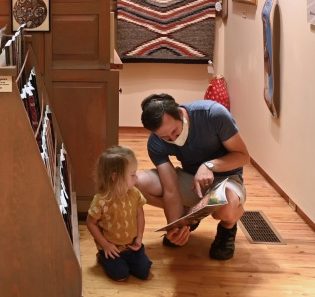 Talk about what they enjoyed most and what questions you still have. If the museum visit prompted interest in a topic, find a book about it at the local library or museum shop.
Do more activities at home, whether by watching MNA's Family Friday educational videos and trying the projects demonstrated or printing out some of these activities.
Plan your next visit! Children love to return, see their favorite things again, and with each visit you will discover something new.