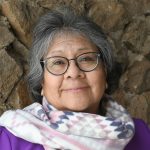 LuAnn Leonard
Dr. Leonard (Hopi/Tohono O'odham) is Alwungwa (Deer Clan) from the Village of Sichomovi located on First Mesa. She is a graduate of Northern Arizona University, earning a BS in Social work in 1983. In the Spring of 2017 she was awarded an honorary Doctorate of Philosophy from Northern Arizona University (NAU). After graduating from NAU she began her professional career as a Social Worker for the Phoenix Indian Center. Since then she has worked in Hopi Tribal Government as a public servant for over 32 years in positions such as Education Counselor, Higher Education Counselor, Director Hopi Tribe Grants and Scholarship Program, Staff Assistant to the Hopi Tribe Vice-Chairman, Director Hopi Office of Youth Affairs, and Staff assistant to Hopi Tribal Chairman Wayne Taylor, Jr.
LuAnn is currently the Executive Director of the Hopi Education Endowment Fund (HEEF). Under her leadership the award winning fund has grown in value from $10 million to over $24 million, which includes annual distributions of over ½ million in funds to support scholarships and community programs. In 2008 one of the highlights of her career occurred when she was appointed to serve an eight year term on the governing Board for Arizona's public universities (ASU, U of A and NAU) the Arizona Board of Regents (ABOR) by then Arizona Governor Janet Napolitano. Upon completion of her service in the Fall of 2016, Dr. Leonard continues to be the first and only Native American to ever serve on ABOR.
LuAnn is the proud parent of Nicole and Joaquin and grandmother to baby Amelia.