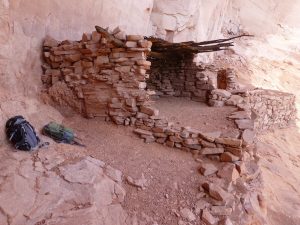 Jan. 18, 2019 Arizona Daily Sun
Before the construction of Glen Canyon Dam, a small army of scientists descended on the Colorado River and its tributary canyons to document the natural and cultural resources that would be inundated by Lake Powell. Among these scientists were archaeologists working for the Museum of Northern Arizona (MNA) and the University of Utah, who came to recover evidence of human history in the canyons that soon would be covered by the rising water. The Glen Canyon Project, as it was commonly known, was funded by the Bureau of Reclamation between 1957 and 1963.
The vast area to be submerged by the reservoir meant that only a reconnaissance-level of survey, and limited excavations, were possible. Despite this, the Glen Canyon Project was one of the largest archaeology programs in the Southwest, documenting thousands of sites to demonstrate that people have lived in and around Glen Canyon for at least 12,000 years. The project was cutting-edge in that sites of all ages were fully recorded, including early twentieth century mining claims, cabins, and Navajo homesites. This procedure is now standard but at the time it was novel.
Archaeology is still an important research domain at the museum. In 2014, MNA began a cooperative agreement with Glen Canyon National Recreation area to monitor previously-recorded archaeological sites. These are sites known from the Glen Canyon Project as well as from later surveys done during construction of the roads, marinas, and other infrastructure for visitors. MNA's work has involved boat-based fieldwork to explore the submerged tributary canyons all along the lake and land-based sessions on the upland terraces north of the Wahweap Bay – Lone Rock area and around Halls Crossing.
The project is documenting impacts from recreation, natural erosion, and inundation by Lake Powell. Habitation sites representing prehistoric communities are frequently visited by tourists who cause both intentional and inadvertent damage. Some people deface archaeology sites with graffiti, or dismantle and rearrange rocks from masonry structures, or even dig holes in sites to steal artifacts. Not only are these activities illegal on public land, they prevent archaeologists from being able to interpret the age, cultural affiliation, and function of the sites. Other visitors don't mean to harm the sites, but cause damage when they lean or climb on fragile stone walls or remove a ceramic fragment or projectile point as a memento, not realizing that an artifact loses its ability to convey information once it is removed from its original location.
Inundation by water can also cause significant impacts to archaeological sites. Wave action along the shore as the water rises and falls moves artifacts (having the same effect as people collecting artifacts). This is especially true in narrow canyons where the waves are confined. Water saturates the soft mortar of masonry structures, causing walls to collapse. The calcium carbonate deposited by the water, commonly known as the "bathtub ring" around the lake, can cover rock art panels. The good news is that in areas exposed by the lower lake levels, the calcium carbonate rind is beginning to flake off, exposing rock art that appears to have survived submersion.
Recent climate models suggest the water level in Lake Powell will continue to decrease, and it may never again fill to its maximum capacity. As more archaeological sites are exposed, MNA will continue to study the effects of inundation and visitation, and work with the National Park Service to protect these irreplaceable resources.
Kimberly Spurr is the Archaeology Division Director at the Museum of Northern Arizona.