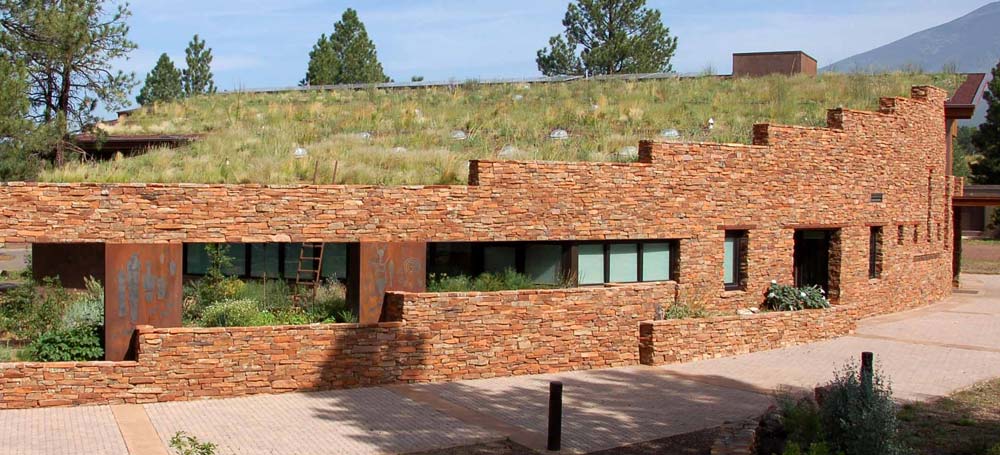 Welcome to MNA's Easton Collection Center
The Easton Collection Center is a premier attraction of MNA's Research Campus. Built in 2008-2009, the ECC is named in honor of the facility's donors, Betsy and Harry Easton. This 17,000 square foot, LEED Platinum certified building symbolically represents the importance of collections to MNA's mission; the museum's respect for the tribal and cultural objects curated by MNA; and the museum's commitment to sustainability.
About the ECC
The ECC represents MNA's commitment to the highest standard of care for its collections. The ECC provides a stable and secure environment for collections, with optimal ranges of temperature and humidity; a fire suppression system; protection from insect damage; and a high degree of security. For more information on the care of MNA's collections, click here.
The ECC is a testament to MNA's commitment to sustainability. Designed with materials that maximize energy efficiency and constructed with recycled materials, the building received an award for Leadership in Energy and Environmental Design (LEED) Platinum certification from the U.S. Green Building Council. Click here to view a list of green building elements that were included in the design and construction of the ECC.
The building design also emphasizes connections to the region's American Indian community. Following recommendations from an American Indian Advisory Committee, the building has a number of symbolic and functional elements designed to make the Native community feel at home in the structure. Key ideas and concepts for the building derived from the recommendations of a Native American advisory committee comprised of representatives of regional tribes. The building entrance faces to the east and the building lobby captures dramatic views of the San Francisco Peaks. A glazed solar aperture next to the main entry door casts rays from the rising sun onto the structure's inner door on the vernal and autumnal equinoxes and marks the path between the summer and winter solstices on the inner wall of the building's vestibule. The front facade of the building forms in a gentle curve composed of native Coconino sandstone. The exterior landscape design consists of plants native to this region.
Perhaps one of the ECC's most innovative features is an extensive living roof, planted with native grasses and wildflowers, and designed to provide a high degree of insulation for the structure and to slow run-off from the building onto the surrounding landscape.