Route 66 in the Petrified Forest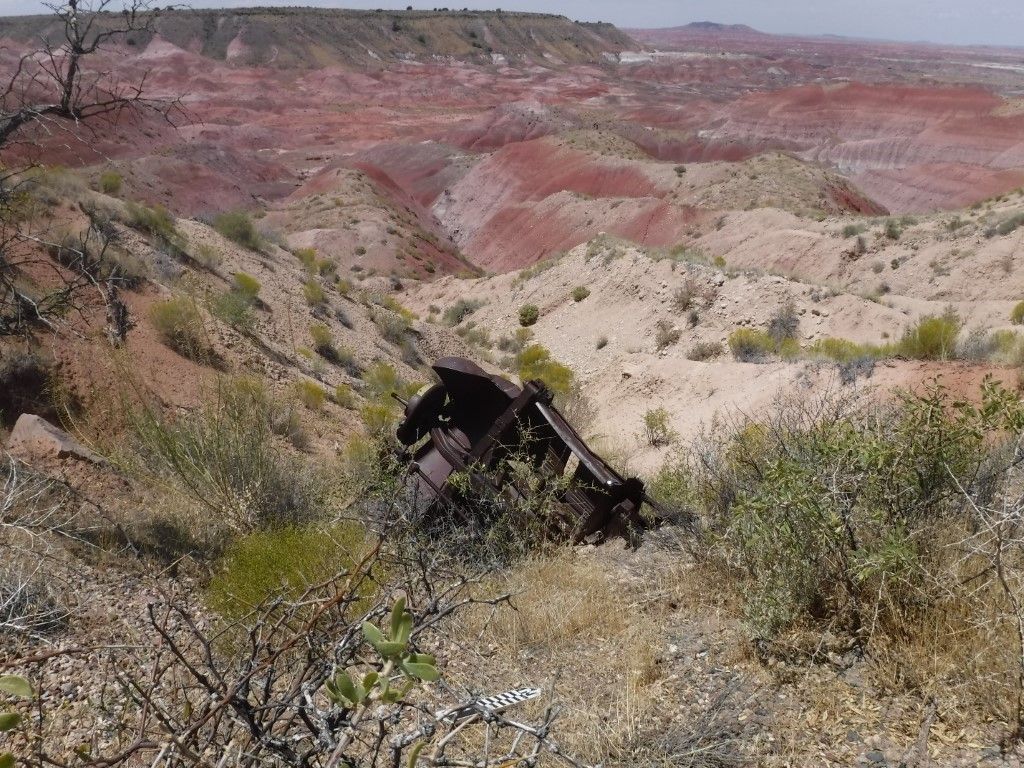 Museum of Northern Arizona (MNA) began a collaboration with Petrified Forest National Park in 2020 to nominate the portion of U.S. Route 66 within the park to the National Register of Historic Places (NRHP). Many segments of Route 66 are already listed to the NRHP, but the Petrified Forest portion has not previously been evaluated and nominated.
Three distinct alignments pass through Petrified Forest: a dirt road originally built as part of the National Old Trails Highway in 1922 and redesignated as Route 66 in 1926; a paved two lane highway built in 1934; and an improved paved highway completed in 1961 and now incorporated as the westbound lanes of Interstate Highway 40. Most sections of Route 66 on the NRHP retain intact pavement and are recognizable as a road.
Between 1958 and 1961, the National Park Service (NPS) removed most of the pavement and associated telephone line within the park; native vegetation has returned and the route is now barely recognizable as a road.  For this reason, and in consultation with the NPS, MNA will instead nominate Route 66 as an archaeological site for its scientific information.
During July, August, and October 2020, MNA archaeologists David Purcell and Brian Kranzler and Petrified Forest Archaeologist Melyssa Johnson identified, mapped, photographed, and described over 11,000 associated bottles, cans, automobile parts, and other artifacts.
As hoped, the associated artifacts provide a material-culture perspective on the experience of driving the Mother Road. A report on field documentation and more research to support nomination of the road is underway.
Car crashes appear to have been common along Route 66 in the vicinity of the Painted Desert, where a private rim drive, two roadside tourist attractions, and a National Park Service petrified wood inspection station were located. The archaeology team found auto parts, broken window glass and numerous alcoholic beverage bottles and cans along the route, a sobering reminder of how this highway earned the nickname "Bloody 66."
Most of the artifacts found were litter – deliberately thrown out the window. Although unsightly, these items provide a wealth of information about the motoring public's behavior. Below are some of the bottles found:

(A) A laudanum or perfume vial along the earliest alignment. Some glass manufactured between 1880 and 1920 was made clear with the addition of manganese dioxide, a mineral that gradually turns purple with exposure to sunlight, as this bottle has.
(B) Soda pop bottle companies competed with each other for the most elaborate decorations. Following the development of Applied Color Labels in 1935, which allowed for extremely durable and bright labels, bottlers such as the Gallup Mercantile Company of Gallup, New Mexico, created their own soft drinks and commissioned fancy bottles as advertisements. This rare "NAVAJO LAND" bottle was collected for the PEFO museum.
(C) This "LORD CALVERT" whisky flask is one of hundreds along the 6 miles of Route 66 within PEFO. Unlike beverage bottles today that warn of the health risks of drinking and driving, this one warns moonshiners that "Federal Law Forbids Sale or Reuse of This Bottle," required on all bottles between 1933 and 1964.
 Watch a video about the Rt. 66 archaeology project