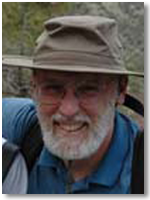 Dr. G. Kent Colbath, Geologist
Dr. G. Kent Colbath moved to Flagstaff in 2005 after retiring as Chair of the Earth Science Department at CerritosCommunity College in Southern California. Kent has a broad range of interests and teaching experience in the earth sciences, and developed the curriculum for the Earthquakes and Volcanoes course at CerritosCollege. Since moving to Flagstaff, Colbath and his wife Jill have become avid supporters of the Museum of Northern Arizona, and Kent can occasionally be found leading school tours through the museum's Geology Hall. In addition, Colbath does classroom presentations for the Flagstaff Festival of Science, and public lectures at Lowell Observatory.
Colbath earned his bachelor's degree from OregonStateUniversity, master's degree from UCLA, and doctorate from the University of Oregon, all in geology. Colbath completed post-doctoral fellowships at the Smithsonian and the University of Queensland, in Brisbane, Australia, before starting work at CerritosCollege. He has authored or coauthored approximately 25 research publications, two field guides, and wrote the article "What Caused the Uplift of the Colorado Plateau?" for volume 6, 2009 of Plateau magazine. Colbath loves to cook, has finally found the time to take piano lessons, and is working on a science fiction novel with a friend.