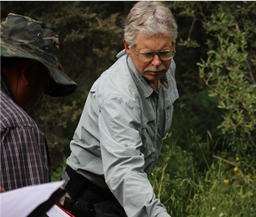 Dr. Larry Stevens, Curator of Ecology
Larry Stevens was born in Cleveland, Ohio, and survived completion of high school with honors. He moved to Arizona in 1970 and attended Prescott College in Prescott, Arizona from 1970-1974. His first work at the Museum of Northern Arizona started on 10 May 1971 under the guidance of Dr. Steven Carothers, working on the bird fauna of northern Arizona.
After working as a National Park Service biological technician and a commercial Colorado River guide in Grand Canyon, he undertook graduate studies in biology at the University of Arizona in Tucson, and at Northern Arizona University, where he received his doctoral degree in Zoology in 1989. He then served as the ecologist for Grand Canyon National Park from 1989-1994 and then chief editor of Red Lake Books in Flagstaff. He has served on many ecological councils and committees across the Southwest. He teaches occasionally at both Prescott College and Northern Arizona University, where he has served on 40 senior, master's and doctoral student committees. He continues to work as a whitewater rafting guide in Grand Canyon.
He is presently the honorary curator of ecology and director of the Springs Stewardship Institute at the Museum of Northern Arizona in Flagstaff. He brings to bear 50 years of experience in evolutionary ecology, springs and river ecosystem ecology, natural resources management, and advisement to Tribes and all levels of governance about those topics. Since 2004 he also serves as the senior ecologist for Grand Canyon Wildlands Council, in which position he is a conservation representative for the adaptive management of Glen Canyon Dam and the Colorado River through Grand Canyon.
Dr. Stevens has authored more than 120 scientific publications, including recent books on river running in Grand Canyon, the ecology of springs and stream ecosystems, global advances in biogeography, and dragonfly ecology. His most recent book, Dragonflies and Damselflies of the Grand Canyon Region, relates the evolutionary history and contemporary biodiversity of these fascinating creatures to the Canyon's spectacular geology and wide array of ecosystems.
Springs Stewardship