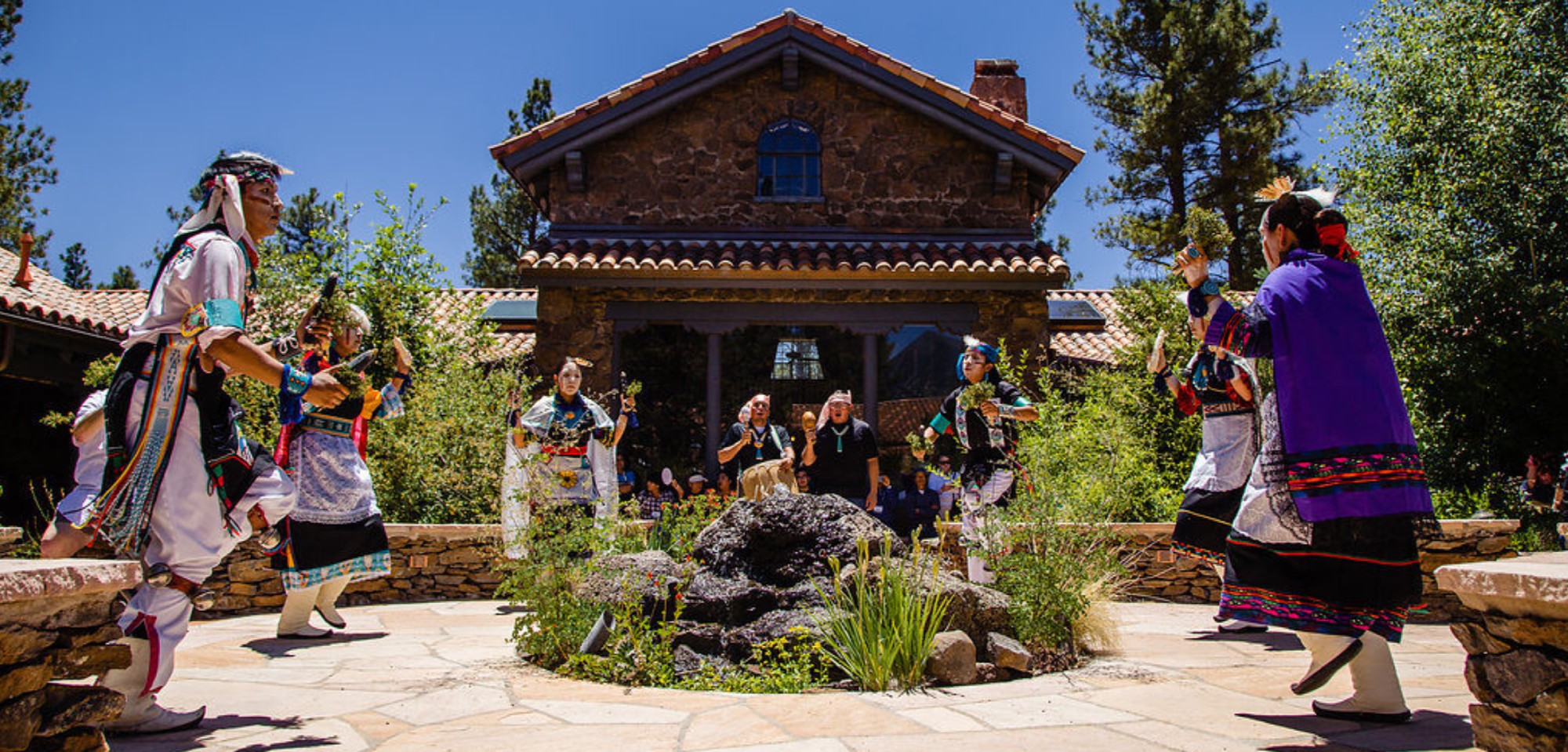 Why one festival for all the Native people of the Colorado Plateau?
Holding a single festival allows us to be more inclusive. The culture-specific festivals MNA used to hold for the Hopi, Navajo, and Zuni left out many other Native people of the region, such as the Pai people. The culture specific festivals also created difficulties for the many people who are of mixed Native heritage.
MNA can focus marketing and resources on one festival to make it bigger and better, benefiting the visitors and the artists. Holding three separate festivals stretched the museum staff, volunteers, and budget thin.
Finally, both visitors and artists prefer having a mix of cultures represented, as they told us during the summer 2021 festival weekends. While some artists miss having an event for only their culture, most enjoyed the diversity, as is seen in these quotes from the 2021 artist survey.
"I like the mixed event with different tribes."
"Next year's festival should be just like this year. I like the way it had a good diverse form of artists, not just all the same tribe. It's very nice to see different medium of art."
"Was great socializing with others from different places."
Why hold the artist market outdoors?
Covid has made us aware of how much safer it is to bring people together outdoors in the fresh air. While we all hope Covid and its variants will be less of a worry by July 2022, we also want to plan for an event that can be safely held no matter what.
To make space for more artists, we had to move outdoors. The museum has limited space and the festival had no more room to grow within the museum walls. Large tents will be set up to host most of the artists, while artists who prefer to bring their own tents will be given that option.
Finally, by moving the art market outdoors, visitors will be able to enjoy the world-class museum exhibitions as well as the artist market, cultural talks, and performances. In the past visitors couldn't really enjoy the exhibitions because they were blocked by artist booths.
Will there be a member preview this year?
Yes, MNA members will be invited to an exclusive preview of the Artist Market on Friday, July 1.
Will there be a juried competition this year?
Yes, the Heritage Festival juried competition will give out more than 90 awards in 24 categories. These awards are important for the artists not only because most come with cash prizes, but also because the ribbons allow artists to be recognized for their skill and draw more buyers.
While most of the categories will be open to all Heritage Festival artists, some are set aside specifically to recognize excellence in arts specific to the Hopi, Diné, Zuni, or Pai.
Where will we park for the festival?
Parking has always been a challenge at the festival, and no matter where visitors park MNA had to run a shuttle to bring visitors from one side of Fort Valley Rd to the other. This year we've worked with the Flagstaff Unified School District and Creative Flagstaff to make parking available at the Coconino Center for the Arts, Sechrist School, and Flagstaff High School. Free shuttle buses will run all day to bring people from those parking areas to the Heritage Festival.
What other ways can I get to the Heritage Festival?
Bike- MNA is on the Flagstaff Urban Trail System, so it's convenient to bike to the Heritage Festival. We have free and secure bike parking within the Festival grounds.
Bus- The Mountain Line Route 5 stops in front of the museum.
Hail a ride – A drop off and pickup area makes it easy for people to take an Uber, Lyft, or taxi.
Why do we have to pay to go to the Heritage Festival?
It costs MNA a lot to put on the Heritage Festival, from vast amounts of planning, to paying performers and speakers, renting big tents, hiring shuttle drives and other extra staffing, designing and printing posters, programs, and signs, advertising, and much more. We try to keep the booth fees low and find grants to help pay some of the costs, but we also depend on the sale of festival tickets to help pay for the cost of the event.
Why do members now have to pay to attend the festival?
In 2021, we reviewed our membership structure and benefits with the goal of keeping membership affordable while also ensuring the sustainability of the museum and its programs. One result of this review is that we now charge members a reduced fee for some special events, including Thirsty Thursdays and the Heritage Festival. 
The main reason for this is that we wanted to keep our basic membership level ($70/year for a household, which includes two adults and any accompanied minors) as affordable as possible in order to keep the museum accessible to as many people as possible. 
We still hold a number of free events for members each year, including: 
The Heritage Festival Members' Preview (July 1), which provides members with an opportunity to view and purchase art before the artists' market opens to the general public. This year, the preview also includes a dance performance.

 

Members' Previews of new exhibits (such as the one we held on May 6 of this year to celebrate the opening of

Baje Whitethorne Sr.: Nááts'íilid/Rainbow Light

and

The Great Unknown: Artists at Glen Canyon and Lake Powell.)

 

Our annual Members Appreciation Day (this year, scheduled for August 27).

 

The Courtyard After Dark event during our

Celebraciones de la Gente

festival in October.

 
In addition, members received reduced prices for special events and unlimited free admission to the museum.  
How can I support the Heritage Festival and the artists?
Every purchase at the Heritage Festival helps the artists, who take home 100% of their earnings. To help ensure that MNA can continue to host the festival, also support the museum with donations or by becoming a festival sponsor.  Just contact development@musnaz.org
Sponsor an artist award. Awards recognize artistic excellence and help artists get noticed by collectors.
Provide affordable lodging. Most artists come from far away and must stay overnight in Flagstaff. The cost of hotel rooms cuts into their earnings.
Sponsor refreshments for the artists. The artists sit at their booths all day and appreciate having quick access to healthy snacks and beverages.
Underwrite booth fees. While MNA keeps our booth fees low, it can still be a hardship for some artists.
Volunteer. Festival volunteers bring the artists water, give artists breaks, set up and restock refreshments, help visitors find their way, and much more. To volunteer contact msoliday@musnaz.org
Tell others. The more people who come to the festival, the better it is for the artists. Plus, that's more people who gain respect and understanding of aspects of Native culture. So share posts about the Heritage Festival via social media, tell friends about the festival, and offer to help distribute posters.