A dynamic living laboratory for growing edible and useful plants on the Colorado Plateau
The mission of the Colton Community Garden program is to: inspire and enact change towards a more resilient and sustainable food system on the Colorado Plateau while maintaining a deep level of integrity and commitment towards honoring and preserving the bio-cultural heritage of this region.
This is accomplished through the cultivation of regionally appropriate heritage seed varieties, research into sustainable/organic, local and Native American growing practices, the interpretation and demonstration of these practices, and education in small-scale, organic farming.
Located on the site of MNA founder Mary-Russell Ferrell Colton's World War II Victory Garden, the Colton Community Garden provides a gardening demonstration and testing ground. The garden showcases  locally-adapted heritage and native plants, along with species that support pollinators and biodiversity.
 The garden includes:
Passive solar greenhouse

built in 1976, when it was the first of its kind on the Colorado Plateau.

Hoop House that supports the growth of seedlings for the Native Plant Program and garden.

Demonstration areas showcasing a variety of techniques for building garden beds from reused materials and various gardening methods including Navajo planting circles, lasagna gardening, sunken gardens, raised beds and cold frames.
Wheel chair accessible path and garden beds.
Seasonal vegetable, fruit and heritage grain beds
A young fruit orchard of apples and pears.
Traditional and native short-season food crops and local varieties
Education
The garden serves as a learning laboratory for all ages, with regular public education workshops and ongoing collaborations. In the garden people experience the wonder of the natural world while learning to live more sustainably on this earth through local production of healthy and culturally appropriate foods. 
The Colton Community Gardens bring participants from:
MNA summer Discovery Camps

Flagstaff Arts and Leadership Academy

Flagstaff High School's Transition-to-Work program for students with special needs

Grand Canyon Youth's Outdoor Club program

High school students from Flagstaff Arts & Leadership Academy

First Year Seminar students from Northern Arizona University

Peaks Senior Living Community
Collections
Experimentation with heirloom and Native varieties of seed that are well adapted to growing on
the Colorado Plateau. Future efforts include exploring the creation of a seed bank with indigenous communities of the Colorado Plateau.
Conservation
A healthy garden mimics the biological integrity of a natural living system. The Colton Community Garden promotes the conservation of important species of pollinators and migratory birds, through its organic growing methods, plant diversity and incorporation of native plants, to .
Place
Community gardens serve as powerful places for gathering, sharing of ideas, and envisioning a collective future. The Colton Garden holds this concept of "bioregional place-making" central to its mission and incorporates features that invite one to linger, to engage in dialogue, and to enjoy into the garden design process.
Who We Are [keep on main page]
Volunteers
Our summer garden volunteers are a critical component of Colton Garden's success. During the growing season our volunteers show up weekly to share their knowledge of growing, assist in garden tasks, and share in community. Volunteers at the garden share in the weekly garden harvest. Excess produce during the summer is donated to the Flagstaff Family Food Center. For more information about how to volunteer with the Colton Community Garden please email coltongardens@musnaz.org. The past three years, Friday mornings 7:00am-9:00am have served as a regular weekly time to gather and work in the garden. Additional volunteer hours in the garden are available upon arrangement.
Northern Arizona University First Year Students
The First Year Seminar "Growing Community" class and "Community Garden Action Learning Team" is in its third year in a partnership between the museum and the First Year Seminar Program (FYS) of Northern Arizona University. Taught by Dr. Rosemary Logan, this partnership provides first year students with the opportunity to learn from and care for the Colton Community Garden. Students enrolled in this four-credit class learn how to grow food, and sell produce at the Flagstaff Community Market during the late summer/early fall. FYS students provide regular care for the garden during the school year [Photo Credit: Shaelin Wood].
Garden Coordinator(s)
Kim Fesseden is serving as the Garden Coordinator for the 2017/18 academic year. Fesseden comes to MNA with a background and interest in gardening, meditation, and building community. His responsibilities include directing volunteers,  managing NAU student work, planning and managing growing operations and coordinating donations. Kim is currently a student in NAU's Sustainable Communities Master's Program.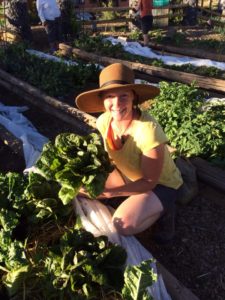 Lissa Buyske served as the Garden Coordinator Summer 2015-Fall 2016 and will be returning to serve as the Garden Co-Coordinator Summer 2018. Lissa is the former grower for the Flagstaff Seedling CSA Program and has gardened throughout Northern Arizona. During the academic year Lissa works as a children's speech therapist on the Hopi, Navajo and Havasupai Nations. She has a passion for working with Native youth and learning from indigenous farming practices.
Garden Caretaker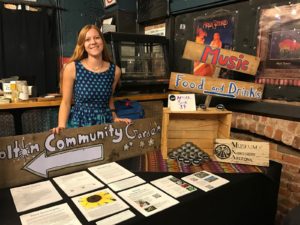 Emily Grams is currently an undergraduate student in NAU's Environmental Sciences program. Her interests are in soil science, environmental sustainability, native plants and sustainable gardening. She is responsible for the daily maintenance and care of the Colton Garden, including watering, weeding, and harvesting. She brings with her tremendous experience from her time working for a landscaping company back East.
Community Partners
Our work would not be possible without the support and volunteer labor of the following partners: NAU's First Year Seminar class "Growing Community," Grand Canyon Youth's Outdoor Club, Flagstaff High School's Transition-to-Work Program, The Peaks Senior Living Community, Flagstaff Arts and Leadership Academy, Flagstaff Foodlink, University of Arizona Cooperative Extension & Master Gardeners, Terrabirds and a core group of dedicated volunteers.
Current Projects 
Flagstaff Community Farmer's Market
NAU's First Year Seminar Students are selling produce from the Colton Garden at the Flagstaff Community Farmer's Market September 17th, 24th and October 1st between 8:00 am and noon. You will find us selling our produce and homemade Arnica Salve at the Flagstaff Foodlink's Backyard Grower Booth every late summer/early fall!

Boundaryless@NAU & Value-added Products from the Garden
This year's NAU First Year Seminar "Growing Community" students are developing their own garden-derived, value-added products in an effort to bring financial sustainability to the Colton Garden Program. Products will go through an extensive vetting process in development with NAU's social innovation center, Boundaryless@NAU and must pass the test of financial viability and marketability. Keep your eye out for the unveiling of these products at this year's annual Colton Garden Holiday Showcase on December 6th!
Growing Community Blog
Interested in staying abreast of activities in the garden and NAU's First Year Seminar "Growing Community?" Students document their work in the garden, in class, and in the community with weekly blog entries throughout the academic year. Visit the Growing Community Blog at: https://growingcommunitiesblog.wordpress.com/
Colton Garden Holiday Showcase [please also list under MNA's Programs & Events page!]
December 6th, 2017
4:00pm-6:30 pm @ Pearson Hall, Museum of Northern Arizona (Research side of campus)
Please join us for a celebration of the Colton Community Garden and the work of NAU's First Year Seminar "Growing Community" students at the second annual Colton Garden Holiday Showcase. In addition to live music, hot chocolate and cider, there will be local goods available for sale from local artists (plant-themes jewelry, botanical cards…), a bake sale, and many products made by students with ingredients from our very own Colton Garden. This will be a FUNdraiser to support the Colton Garden!
For more Information
Contact the Colton Garden Coordinator at coltongardens@musnaz.org or stop by the garden during regular garden volunteer hours between May and September, Friday mornings 7:00am-9:00 am. You can also often catch someone in the garden early spring and fall, Fridays 1:00-3:00 pm. Volunteer: https://musnaz.org/volunteer/
Directions to the garden:
Enter 35.23551, -111.6607 into your GPS

Take 180 North from Flagstaff towards the Museum of Northern Arizona. BEFORE you reach the museum, turn right onto Winding Brook Rd. Follow this road until it comes to a "T". Turn left and park next to Newberry Building. Walk behind building to the garden.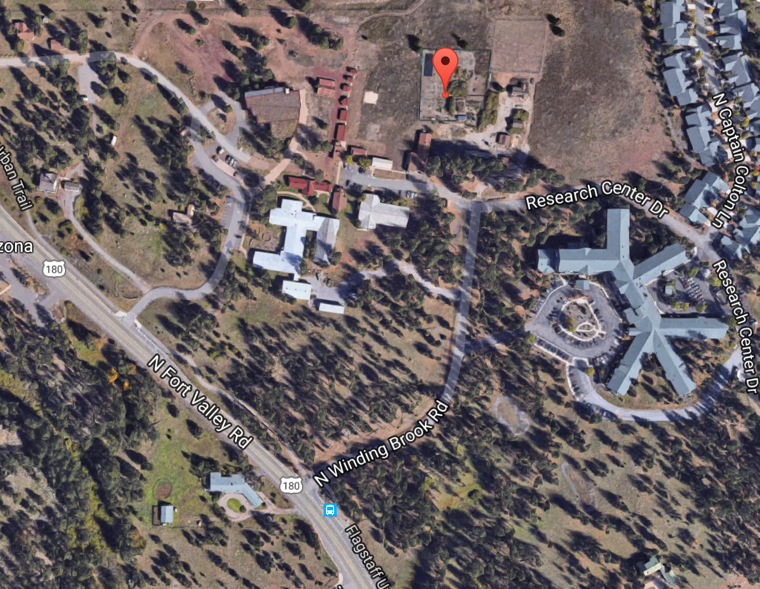 Priority Funding Areas [link from main page]
Wishlist  [Cross link to:
https://musnaz.org/wishlist/
  Can you update the list that is there for CCG, please?]
Nolobait (organic) for grasshoppers

Seeds (heirloom, organic, or local)

Seedlings--native plants, veggies, herbs, flowers

Wall O Waters (for tomatoes!)
Upcoming Project Needs
Experience has demonstrated that a fence buried three feet around a garden perimeter, and outfitted with visual barriers is very effective in preventing prairie dogs from infiltrating an area. The Colton Garden is adjacent to a very healthy prairie dog colony at the museum. We are seeking funds to pay for materials to install a buried three-foot fence around the garden perimeter. This will protect both Colton Community Garden's plants as well as the Native Plant Research plots at the garden.
The garden's nearest neighbors are the residents of the Peaks Senior Living Community. In the past we have had wonderful participation from more mobile residents, and they added much to our community. We would like to broaden our outreach to less mobile residents by adding a wheelchair-accessible pathway to, and throughout, the garden from the main drive. We also look forward to renewing our effort to building more accessible raised garden beds.
The Colton Community Garden has so much potential as a space for public learning and demonstration. In order to gain the most from the innovative practices being used in the garden we are seeking funds to pay for the installation of interpretive signs at the garden. NAU students from Fall 2016 have already developed the content for the signs—we are just in need of funds for the creation and installation of such signs.
Helen's Community Greenhouse [link this subheading only/ also to main Colton page]
A community greenhouse is a space that brings together members of the community through a variety of ventures—seedling growing (native plants and cultivated veggies/herbs), intergenerational educational programming, and small-scale business development. It is a space which all are welcome and innovation and idea-sharing flourish.
Following the passing of a beloved community member, Helen Sisk, in 2016, a fund was created by Flagstaff Foodlink in her honor to make this dream become a reality. We have available a full set of design plans for a zero-net energy passive solar greenhouse. These plans including a proposal and full budget and are available to potential funders upon request.
If you are interested in offering financial support to this initiative please contact flagstafffoodlink@gmail.com or send a check to: Flagstaff Foodlink, P.O. Box 23813, Flagstaff, AZ 86001.
Pie(s) in the Sky
Additionally, there are design plans for a full sustainability retrofit of MNA's Pearson Building. These plans include the addition of a solar system, rain water harvesting system, teaching kitchen, and full weatherization/insulation plan.
Many groups take advantage of the seating areas in and around the garden. Some are specific programs, other times other groups simply enjoy the opportunity to be outside. A pavilion built over our seating area would help promote CCG as a community space, improve education with a few tools such as a whiteboard, and give groups a space to seek shelter from passing rainstorms.