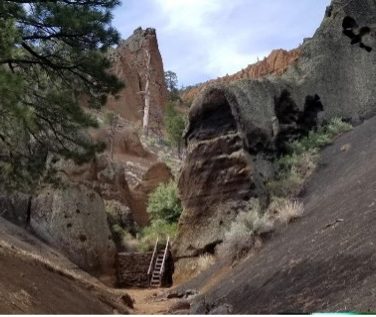 Tour of Red Mountain
September 24, 2022
9:00 am – 12:00 pm
Trip Leader: Dr. Kent Colbath
Cost: $75 for MNA members / $95 for non-members
Difficulty: Moderate
Red Mountain, located in the Coconino National Forest of northern Arizona, 25 miles northwest of Flagstaff, is a volcanic cinder cone that rises 1,000 feet above the surrounding landscape. It is unusual in having the shape of a "U," open to the west,
and in lacking the symmetrical shape of most cinder cones. In addition, a large natural amphitheater cuts into the cone's northeast flank. Erosional pillars called "hoodoos" decorate the amphitheater, and many dark mineral crystals erode out of its walls. A guided hike into the amphitheater, a gash into the side of a 600,000-year-old volcano will be led by Kent Colbath, former Chair of Earth Science at Cerritos Community College in Southern California and huge fan of MNA.
Participants will drive themselves to the trailhead, off HWY 180 and Forest Service Road 9023V (about a 35-minute drive from MNA, meeting there at 9:00 am. Wear sturdy shoes, sun protection, bring water, and a sense of adventure.