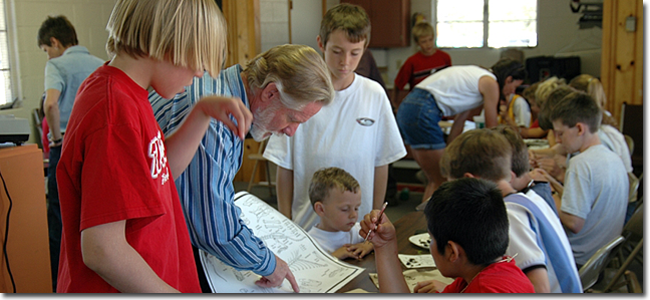 Take your students to one of the most interesting and educational museums in Flagstaff! MNA offers engaging school group tours, workshops and puppet shows for classes and student groups of all ages. Many of our student programs provide curriculum guides that meet Academic Standards for the State of Arizona. Brief descriptions of our workshops and programs are provided below.

To request a tour email: tours@musnaz.org

PROGRAMS AND WORKSHOPS MATRIX: Your quick guide to how these resources compare, group sizes and approximate time allotment. Curriculum guides for teachers are listed with the description of each offering.

Workshops, programs, puppet shows and special exhibit tours may be scheduled to start from 9 a.m. to 3:30 p.m. daily.

MNA offers special tours, workshops, and programs for adult and youth groups of six or more.
GROUP RATES
| | | | | |
| --- | --- | --- | --- | --- |
| | | | | |
| | Regular Admission | Docent-Led Tour/Group Rate | Docent-Led Youth Program with Craft/Workshop | Docent-Led Prehistoric Foods/Pottery Workshop (includes food/clay) |
| Youth (10-17) | $8.00 | $3.50 | $5.50 | $8.00 |
| Under 10 | Free | $3.50 |  $5.50 |  $8.00 |
| | | | | |
SCHOOL GROUP WORKSHOPS
Prehistoric Foods
(4th – 6th grade) Approximately 3 hours
Students learn about prehistoric people through available food sources and cooking methods utilized during each time period. Children work with Museum docents to prepare foods made of corn, squash, native grains, etc. Students learn about life styles and technology during different periods and discuss the nutritional value of prehistoric food compared to modern foods.
Prehistoric Pottery
(4th – 8th grade) 1 and a half to 2 hours
Students learn the importance of pottery in prehistoric native cultures. Traditional techniques of pottery-making and decoration are demonstrated, and students are able to create their own prehistoric-style ceramic pot. Curriculum Guide
Prehistoric Technologies
(4th – 8th grade) 1 to one and a half hours
Prehistoric peoples used native fibers to make cordage as fine as thread or as thick as rope. Using animal or plant fibers, students will learn ancient techniques to create cordage by hand. They will learn how to use an ancient-style pump drill to make a piece of jewelry out of clay.
Owl Pellets
(4th – 8th grade) 1 and a half to 2 hours
Through the dissection of owl pellets (regurgitated masses of bone, teeth, hair and feathers), students learn about the habits of birds of prey, the food chain, food webs and interdependence. Students work in pairs to uncover the skeletal remains of mice, voles and shrews that have been ingested by barn owls. Curriculum Guide

Rock Art Workshop
(4th – 6th grade) 1 and a half to 2 hours
Through discussion and hands-on activities, students learn about the techniques for making petroglyphs and pictographs. Possible meanings and cultural implications are covered as well as archaeological site etiquette. Curriculum Guide
STUDENT PROGRAMS
Dinosaurs
(Pre-K – 3rd grade)
Children are transported back to the Age of the Dinosaurs. They will learn about the environments and animals that existed during the Mesosoic on the Colorado Plateau. Dinosaur bones, models, footprint casts and illustrations help bring the subject to life. Curriculum Guide
Colorado Plateau Cultures
(4th – 12th grade)
A comparative look at the traditional and contemporary lives of the Native American cultures of the Colorado Plateau: specifically Navajo, Hopi, Zuni, and Havasupai. Students may play Hopi games, grind corn, or card and spin wool among other traditional hands-on opportunities.
Hunter's Kit (Archaeology)
(3rd – 8th grade)
Visitors learn of the earliest Southwest inhabitants by studying their food sources, basketry, pottery and architecture. Students examine objects found in a bag typically carried by hunters of the period. Curriculum Guide
Grand Canyon Geology Program
(4th – 8th grade)
Working in small groups, students examine rocks and fossils from rock layers in the Grand Canyon and identify them based on information provided. They also use clues in the Museum's Geology Gallery to help them deduce the environment of deposition of the different layers. Curriculum Guide
Highlights Tour
(7th – 12th grade)
This tour takes the students through the Museum while docents point out the key concepts portrayed in each gallery.
PUPPET SHOWS
The actual production of these shows is 10-15 minutes long. They are usually introduced by a short program on the same topic. An associated craft activity is available.
Goat in the Rug (Navajo)
(Pre-K – 3rd)
The story of a Navajo weaver and her pet goat which teaches children about the process of traditional rug-making. Curriculum Guide