Dear Friends,
2020 was a year unlike any other. And while, as you will see from this report, it may have been the most challenging in MNA's history,
it was also one in which you, our supporters, rallied for our support through the global pandemic. For that, on behalf of the MNA board of directors, I must say: thank you. We are grateful for your generosity and your confidence in MNA during these unprecedented times. I must also acknowledge past board chair Bob Gunnarson and his steady hand at the helm through the worst of 2020. He and Director Mary Kershaw brought a calm to these stormy times.
Now, in the closing months of 2021, not only have we survived, we have thrived! I am proud of the staff's commitment to innovating through the pandemic, as we pivoted to virtual programming and moved many of our collections online. The board of directors worked closely with the staff to control spending in order to ensure that MNA remained financially solvent throughout the crisis – a process which continues today. And you, our members and donors, stepped up when asked and have ensured that MNA will emerge from the pandemic as a renewed creative force in our region.
Museums are gathering places not just for collections and ideas, but also for communities. We are honored to be one of northern Arizona's longest-lived gathering places for members, volunteers, artists, scientists, visitors, and many more. Thank you for ensuring that MNA will continue to be such a place for years to come!
Sincerely,
Troy Gillenwater, Board President
A Challenging Year
A new exhibition had just opened when the museum had to close in March 2020. While many museums across the country remained shut for the rest of the year, MNA reopened after 15 weeks, with protocols in place to keep visitors safe from Covid, including online ticketing, limited entries, a one-way route through the exhibits, masking, and increased cleaning.
Research also continued, despite the challenges. MNA archaeologists and biologists returned to fieldwork at Glen Canyon, Walnut Canyon, Roden Crater, Wupatki, Grand Staircase-Escalante National Monument, Nevada, and New Mexico.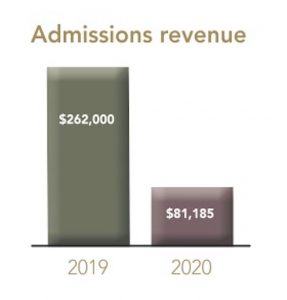 The museum saw a safe trickle of visitors through the rest of the year, but the summer events that usually draw crowds to the museum had to be canceled, including the Heritage Festivals and Thirsty Thursdays. Most programming was moved online, including new education programs to meet the needs of people isolated at home during the pandemic.
So though few visitors bought tickets to come into the museum, MNA accomplished its mission, sharing the beauty and diversity of the Colorado Plateau with more than 330,000 people around the world.
Comparing 2019 to 2020
MNA entered 2020 strong, but the pandemic was a financial blow. In a normal year museum admissions, rentals, and retail account for about 25% of the museum's revenue. In 2020 those revenue streams stopped mid- March and did not recover, so they only accounted for 11% of revenue this year. This left the museum depending more heavily on other revenue streams, on cost-cutting measures, and on philanthropic gifts. MNA applied for and received $368,600 from the Paycheck Protection Program, which was fully forgiven.
With all the uncertainty that surrounded 2020, we felt the need for a strong, fiscally responsible approach to navigate the changing landscape.
We ended 2020 with a positive net operating income (*before depreciation of $544,568), and this surplus will be used in future years to support MNA as we strive to recover from the effects of the pandemic.