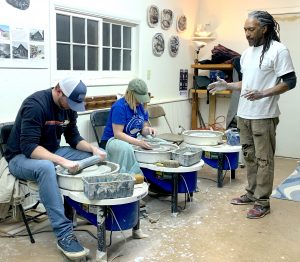 Ceramics classes are taught by Chas Frisco, a working potter and soccer coach. Chas has been working with clay for more than 30 years and has an MFA in Ceramics from Wichita State University. He has taught ceramics at Friends University and Clay Fetish Pottery and now teaches regular wheel throwing and hand building classes in the Newberry Building at the Museum of Northern Arizona's Discovery Village.
Ceramics classes
Come play in the clay and learn how to throw and hand-build.  Students will learn wheel throwing techniques; glazing and decorating pots( low fire). During each 6-week session you can expect to make 10 quality pieces, fired in electric kiln, pit kiln, and wood kiln.
All levels welcome. If you have experience let Chas know so he can develop an advanced program for you.
For details and to register, email chasarts101@gmail.com
Beginner's Ceramics
Mondays, 12 pm-2:30 pm
Session one: Aug. 14-Oct. 2 Session two: Oct. 9-Dec. 4
Beginner's Ceramics
Mondays, 5:55 pm-8:25 pm
Session one: Aug. 14-Oct. 2 Session two: Oct. 9-Dec. 4
Beginner's Ceramics
Tuesdays, 12PM-2:30PM
Session one: Aug. 15- Oct. 3 Session two: Oct. 10-Dec. 5
Beginner's Ceramics
Tuesdays, 5:55PM-8:25PM
Session one: Aug. 15- Oct. 3 Session two: Oct. 10-Dec. 5
Beginner's Ceramics
Wednesdays, 12 pm -2:30 pm
Session one: Aug. 16-Oct. 4 Session two: Oct. 11- Dec. 6
Beginner's Ceramics
Wednesdays, 5:55PM-8:25PM
Session one: Aug. 16-Oct. 4 Session two: Oct. 11- Dec. 6
Intermediate/Advanced Ceramics
Thursdays, 5:55 pm - 8:25 pm
Session one: Aug. 17-Oct. 5 Session two: Oct. 12-Dec. 7