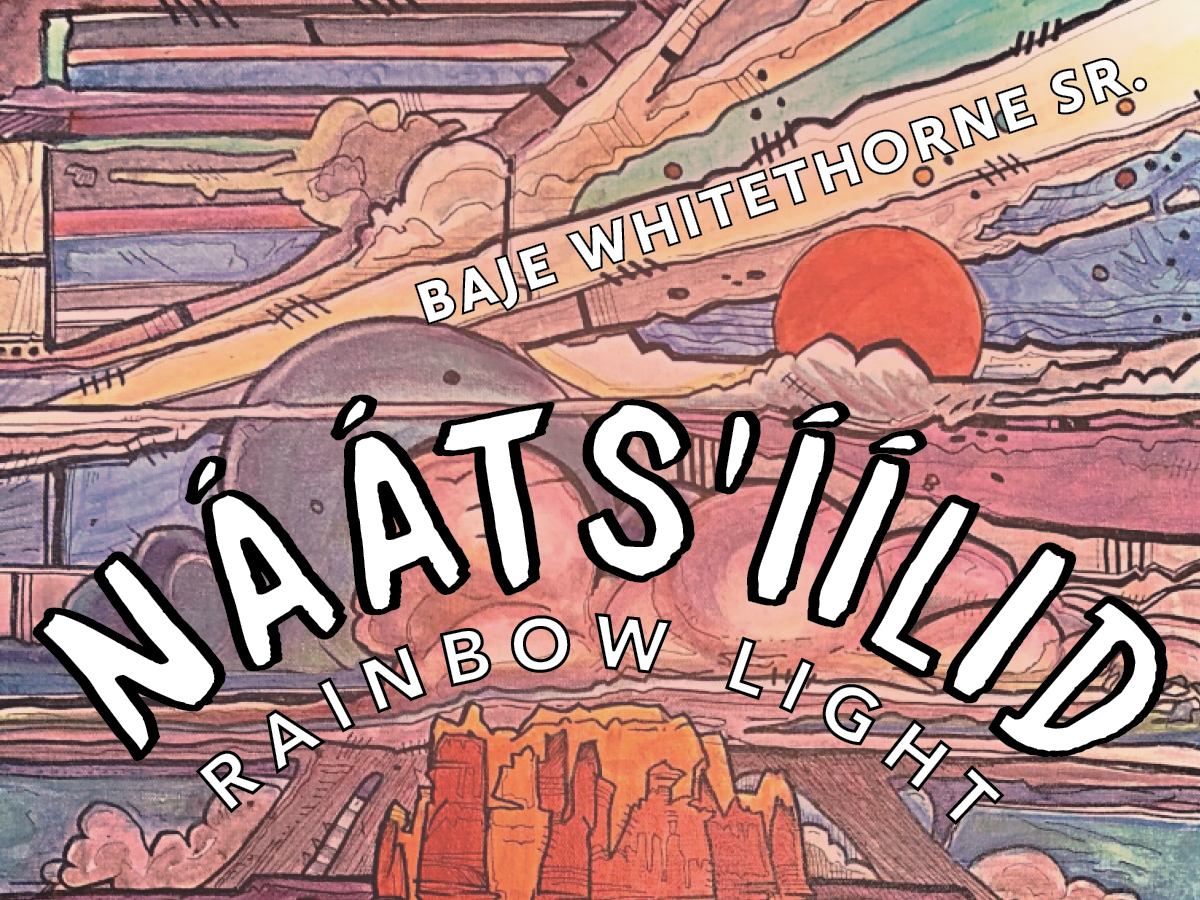 This annual fundraiser has been moved to August 29 and is being restructured for the current situation. The Gala is an important fundraiser for the museum. Watch for details.
Gala tickets are limited and may be purchased online by clicking here or by contacting development@musnaz.org or calling the Development Office at 928.774.5211, ext. 227.
August 29, 2020
Gala & Fine Art Auction
For sponsorship opportunities and reservations, please contact the Development Office at 928.774.5211, ext 227 or development@musnaz.org.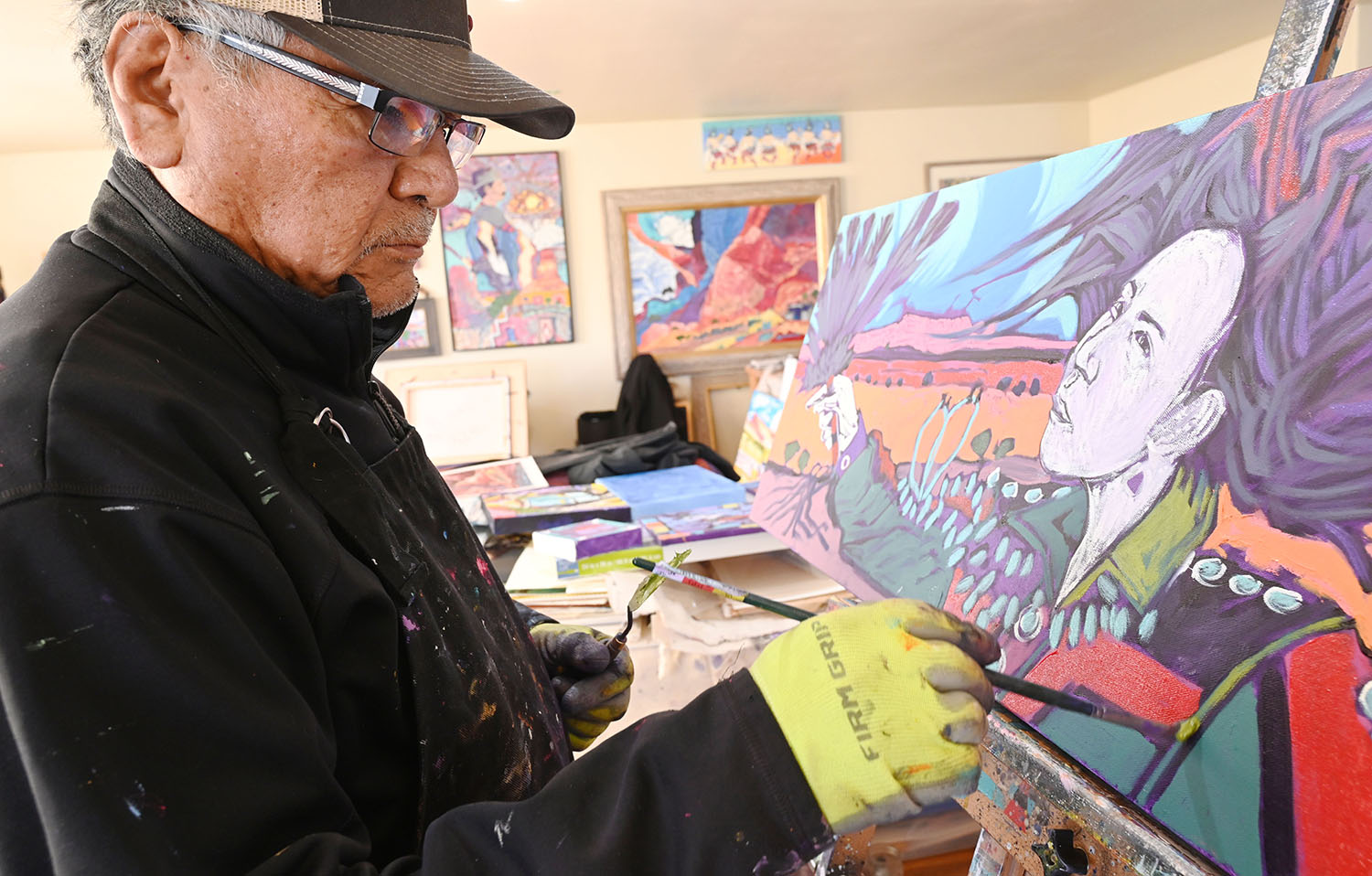 About the Gala Artist - Baje Whitethorne Sr.
The world Baje Whitethorne Sr. paints bursts with energy and memory. Even the stillest scene of home, the smoke quietly climbing from a hogan, has an underlying exuberance exposed through intense and unexpected hues. The hogan may be purple or blue or yellow. The rocky cliffs range through crimsons, amethyst, and azure. The sky bursts open into pattern.
It's a landscape remixed into fragmented rainbows of color, as if glimpsed through the kaleidoscope of a child's imagination.
Baje has been creating art since he was a child growing up in the place he so often paints, on his family land in the mountains near Shonto, Arizona. He started by sketching his brothers, uncles and grandfather herding sheep and riding horses, or his mother sewing clothes.
He turned to art in earnest in 1981, after a work accident forced Baje to take time off of his job as a boilermaker and rethink his future. In the 40 years since, Baje's prominence in the art world has grown, with numerous awards, shows and honors. He has exhibited his artwork across the U.S., from San Francisco to the Smithsonian Institution in Washington, D.C.
He also has toured across Europe, showing his work in cultural centers in France, Germany and Italy. He received the Western Heritage Wrangler Award from the Cowboy Hall of Fame and the 2014 Mayor's Legacy Award for Lifetime Contribution to the Arts at the Viola Awards Gala in Flagstaff, Arizona. Last year he was included in "Six Navajo Masters" exhibition at the Booth Western Art Museum north of Atlanta, GA
Along with painting, Baje is an accomplished sculptor, jeweler, illustrator, author and a leader in the art community. Whitethorne has illustrated 8 children's books, two of which he authored. The first he wrote for his son. The books share stories from Navajo oral tradition as well as from his life: Monster Bird, Monster Slayer, Sika and the Raven, Sunpainters: Eclipse of the Navajo Sun, and Father's Boots.
Baje's art reflects his generosity of the spirit. He frequently mentors and instructs younger artists. He's a founding member of Art of the People, a group of prominent indigenous artists who work together to encourage a new generation of artists and share Navajo culture through their art. Baje and the other members of Art of the People often engage in a collaborative art process, which is rare among artists. They'll take turns painting on a single canvas, often while the public watches, layering paints and ideas with apparent ease until a shared vision emerges.
The Museum of Northern Arizona is honored to have Baje Whitethorne Sr. as the featured gala artist this year and to be able to show an incredible retrospective of his work.